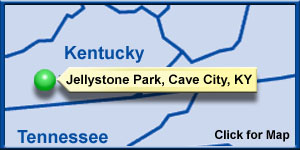 Overview
Yogi Bear's Mammoth Cave Jellystone Park is located between Bowling Green and Louisville, Kentucky. Being a mere 10 minutes from the Mammoth Cave National Park entrance makes this an ideal location to stay. That statement is twice as true if kids are involved.
Many of the campsites feature full hookups, but most are not particularly level. Most site's aren't unlevel beyond reason, but be prepared to do some work. This is a very popular destination in season and on weekends, so the campground can fill-up. If you don't like kids, I wouldn't stay here. Of course, if you don't like kids, why would you be here to begin with?
There are two primary features that make Jellystone Park attractive to traveling families: amenities and activities. Amenities include a pool, waterslide, playgrounds, miniature golf, golf carts (to rent), game room (very nice), wide screen TV in the lodge, outdoor theater, food, Yogi and Cindy, and much more. Activities are almost continuous and include arts and crafts, face painting, karaoke (kara-Yogi), bingo, and much more.
Local attractions are a plus, but verify what is open during the season you plan to visit. Some of the rather "touristy" attractions are closed (or should be). Some seem to be doing just fine. Obviously, Mammoth Cave is the main local attraction. That alone makes this a great place to visit.
---
Adventure Journal
Entry Date: September, 2011
Rebecca had a training session to attend in Louisville on this particular week. We decided to head that way a few days early so we could visit Mammoth Cave National Park. I'd traveled through the area before, and I camped at Jellystone Park in Cave City. Frankly, I hadn't planned on staying here again. My image of the park was from the perspective of someone that really loves the natural surroundings and large campsites of state and national parks. Jellystone is all about amusement and fun. In all fairness, Jellystone Park does have some very nice surroundings.
As I planned and researched for this trip, I could find no better alternatives to Yogi's place. Questionable reviews and the lack of good photographs made the selection of another campground a scary proposition. In hind-site, I'm thankful. There might have been a mutiny had we stayed anywhere else.
When we first pulled into the park, the kids immediately began to take note of the amenities. Statues of Yogi and other Jellystone characters suggested fun. And fun it was! I had a pretty big problem finding a site that would easily accommodate Homer II (our camper) and the Jeep's trailer. Most of the sites are very high on one end or the other and/or from side to side. I watched as other campers arrived and began to set-up. Regulars seemed prepared to do some pretty major jacking to level their RV's. I also observed that the best siyes are the first to be reserved by those that are familiar with the campground.
When the setup job was finished, I rounded-up the crew and loaded them in Willie B (our Jeep) for a ride into Mammoth Cave National Park. The park was very impressive. We saw considerable wildlife on the way to the visitor center. After purchasing tickets for a cave tour, we headed out to explore. It didn't take long for everyone to start begging to go back to Jellystone Park. A "Hey Hey Hey" Ride was beginning very soon. And so it went for the rest of the weekend.
We did make the cave tour on Saturday. It was fascinating, and the kids thoroughly enjoyed the experience. We drove through the national park's campground, snapping some shots on the way back to the campground where we spent the balance of our time.
This was certainly a favorite destination of Rebecca and the kids. We enjoyed the exceptional miniature golf course, painted ceramics, sang karaoke (Kara-Yogi), watched an outdoor movie, sang songs on hay rides, made s'mores, ate waffles, played bingo, and thoroughly sucked every bit of fun possible from Jellystone Park.
So, have I changed my mind about the park? No. If I was traveling alone, I'd boondock (dry camp) at the campground in Mammoth Cave National Park. But I have to admit, I have no say otherwise. Yogi Bear's Jellystone Park near the entrance of Mammoth Cave National Park in Cave City Kentucky is the kids' new favorite campground.

The Richardson Tribe
More Destinations:
Up
Amicalola Falls State Park
Beaches of South Walton.
Berry College
Big Kahunas
Biltmore House
Blairsville, Georgia
Callaway Gardens
Cataloochee Ski Area
Cave Spring
Cedar Creek Park
Charlestown State Park
Chattahoochee Bend State Park
Chattanooga Zoo
Chehaw Park
Cherry Hill Park
Chester Frost Park
Chieftains Museum
Choccolocco Mountain Off Road Park
Cloudland Canyon
Cloudmont Ski and Golf
Consolidated Gold Mine
Cohutta Wilderness
Cumberland Island
Dauset Trails
Disney's Fort Wilderness Resort
Desoto State Park
Doll Mountain Campground
Dollywood
Dunnaway Gap
Enota Mountain Retreat
Etowah Indian Mounds
Fall Creek Falls State Park
Florala State Park
Franklin D Roosevelt State Park
Fort Mountain State Park
Georgia Mountain Fairground
Georgia Veterans State Park
Gold n Gem Grubbin'
Helen Georgia
Hillcrest Orchards
James H Floyd State park
James Island Park
Jellystone Park- Cave City, KY
John Tanner Park
Lake Allatoona
Lake Sidney Lanier
Lake Winnepesaukah
Little River Canyon Center
Live Oak Landing
Lula Lake Land Trust
Mammoth Cave National Park
McIntosh Reserve
McKinney Campground
Moto Mountain Powersports
New Echota - Cherokee Capitol
Noccalula Falls Park details and pictures
Old Stone Fort Archaeology State Park
Pine Moutain RV
Red Top Mountain State Park
Ridge Ferry Park
Rocky Mountain Recreation Area
Rock Town - Pigeon Mountain
Rome GA
Salt Springs Recreation Area
Silver Springs
Stone Mountain Park
Tanglewood Farm
Tannehill State Park
Tellus Science Museum
The Southern Museum
Topsail Hill Preserve
Townsend KOA
Townsend Tennessee
Twinbrook Resort
Up The Creek RV Camp - Park Details - Pictures
US Space and Rocket Center - Details and Pictures
Vogel State Park
Wild Animal Safari
World of Coke
Zoo Atlanta - Details and Pictures
Features

Rating (1-10)

Description

9

Jellystone's website is targeted to the younger crowd. It's very attractive, but still lacks a good variety campground pictures.

Campground - Reserve

8

Kids activities, rich amenities, and full hookups in much of the campground add to Jellystone's score. Terribly unlevel campsites take away. (**$20-$62 +/- depending on hookups and season)

Kid's Activities
10+
A new category created just for this park. The staff did a wonderful job of keeping us occupied. There is little risk of being bored at Jellystone Park.

Cottages/Cabins - Reserve

*

Small park model cabins and motel-like rooms are available (**$40-$250 +/- depending on unit and season)

Pool/Waterslide
9
We didn't swim on this visit (it was cool), but the pool is very nice. There is also a large water slide just down the hill from the pool (closes at Labor Day). There is also a large whirlpool adjacent the pool.

Playground

9

Wonderful playgrounds!

Miniature golf
10
It's a very nice miniature golf course to begin with, but being free to campers makes it a 10. Good move guys!

Visitor Center/Store

9

It's part camp store, part cafe, part lodge. Very nice

Hiking/Biking

9

Almost 53,000 acres of wilderness in nearby Mammoth Cave National Park. Absolutely, hiking is good!

8

Rock shops abound in the area. We spent some time (and money) rummaging through the shops, but found nothing notable on the ground. Apparently geodes are a big thing here though. We came home with several.

Local Attractions

9

Mammoth Cave National Park, Dinosaur Land, KY Action Park, Kentucky Down Under, Corvette Museum, Diamond Caverns, Horse Cave, Louisville, and much more.

*Note: We rate only the amenities we have personally reviewed.
**Accommodation pricing is based on the 2011 Cave City Jellystone Park website.

No financial consideration or favor has been received for listing in PB&J Adventures' website. We are in no way affiliated with this facility or any other facility we review. Any paid advertising seen on this site was arranged after the destination was reviewed. You can trust the reviews to be unbiased.
---