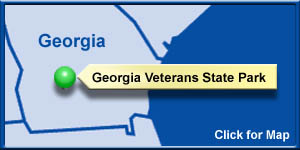 Overview
Georgia Veterans State Park is located in an almost tropical South Central Georgia near Cordele. It's campground, lodge, and cottages are located on the banks of Lake Blackshear, one of the best fishing lakes in the Southeastern US. The campground is perfect for fishing because you can anchor right off shore or tie-up to the dock. There is also a marina on the property.
The campground is very nice with spacious pull- through sites parallel to the lake, very rare! At most campgrounds, waterfront sites are typically back-in and very narrow. There is no lack of real estate here, so the sites are nice and wide. Each gravel site is relatively level and features a fire ring/grill combo.

Georgia Veterans State Park is the home to a veterans museum. Inside the museum are many examples of uniforms and small arms from various countries, both ally and enemy. Outside is an interesting collection of heavy armament such as tanks and cannons.
Georgia Veterans State Park is also a key stop for the Sam's Short Line train. You can hop on here and ride to Plains, Georgia, home of former president Jimmy Carter.
---
Adventure Journal
Entry Date: February, 2010
This adventure turned out to be just that, an adventure. The expected became the unexpected, and the unexpected became the expected... rather unexpectedly.
Ok, so the plan was to head south with some friends in February. South to a warmer climate. What better time to visit the hot sweaty south Georgia than in the Winter. As the departure day neared, the forecast became very unusual for the region. Snow! Snow in Cordele, Georgia! This was a rare event indeed. We bought some tubes and took off work early to get ahead of the weather. We were stoked! Snow in South Georgia!
It snowed hard on us most of the way to Cordele, but the roads were pretty warm and stayed clear right up until we arrived at Georgia Veterans State Park. We found our site and began setting-up. Flakes were the size of golf balls, and splatted when they hit the ground. It was a wet snow, and it was stacking-up fast.
By the time I'd finished hooking us up it was snowing very hard, it was really cold, and the sun was gone. I had the unpopular task of sending the kids inside, assuring them that the snow would be piled-up good in the morning ready for play. Tubing, snowmen, and snowball fights would fill our day. They were excited, I was optimistic. I was sadly mistaken.
When we got up Saturday morning, all the snow was gone. The white precipitation had turned to rain sometime during the night and washed the snow away. It was cold outside as well as inside. Daddy was not the most popular resident at the campsite, at least for a while. All was soon forgiven though, it was, after all, my Birthday.
We spent the remainder of time at the park fishing and exploring the museum. It was a very cold weekend, so we kept a fire roaring all the time. We celebrated valentines day and Lee Thomas' Birthday while on this trip as well.

On President's day, we hopped on the Sam's Shortline Train to Plains, home of former President Jimmy Carter. There was an actor on the train impersonating Teddy Roosevelt. He spoke at an auditorium in Plains, and was entertaining although he probably should have rehearsed a little more. We had previously visited the childhood home of President Carter, so this was more about the train ride than anything. One thing of note regarding Plains, there is no ATM. Yes, that's right, as of the time of our last visit, Plains has no ATM, anywhere, not even the bank. Be prepared.
In Summary, this is an awesome park. Without a doubt, this is an awesome destination in warmer weather. Fishing and water sports are what this place is made for. Its' good this time of year normally. We just happened upon an unusual weather event. On the bright side, we didn't see a single gator.

The Richardson Tribe
Disclaimer
After publishing this page, I noticed the rather obvious display of a Nazi flag in the lower right picture. Trust me. This museum has many flags from many countries, both ally and enemy.
Other Destinations:
Up
Amicalola Falls State Park
Beaches of South Walton.
Berry College
Big Kahunas
Biltmore House
Blairsville, Georgia
Callaway Gardens
Cataloochee Ski Area
Cave Spring
Cedar Creek Park
Charlestown State Park
Chattahoochee Bend State Park
Chattanooga Zoo
Chehaw Park
Cherry Hill Park
Chester Frost Park
Chieftains Museum
Choccolocco Mountain Off Road Park
Cloudland Canyon
Cloudmont Ski and Golf
Consolidated Gold Mine
Cohutta Wilderness
Cumberland Island
Dauset Trails
Disney's Fort Wilderness Resort
Desoto State Park
Doll Mountain Campground
Dollywood
Dunnaway Gap
Enota Mountain Retreat
Etowah Indian Mounds
Fall Creek Falls State Park
Florala State Park
Franklin D Roosevelt State Park
Fort Mountain State Park
Georgia Mountain Fairground
Georgia Veterans State Park
Gold n Gem Grubbin'
Helen Georgia
Hillcrest Orchards
James H Floyd State park
James Island Park
Jellystone Park- Cave City, KY
John Tanner Park
Lake Allatoona
Lake Sidney Lanier
Lake Winnepesaukah
Little River Canyon Center
Live Oak Landing
Lula Lake Land Trust
Mammoth Cave National Park
McIntosh Reserve
McKinney Campground
Moto Mountain Powersports
New Echota - Cherokee Capitol
Noccalula Falls Park details and pictures
Old Stone Fort Archaeology State Park
Pine Moutain RV
Red Top Mountain State Park
Ridge Ferry Park
Rocky Mountain Recreation Area
Rock Town - Pigeon Mountain
Rome GA
Salt Springs Recreation Area
Silver Springs
Stone Mountain Park
Tanglewood Farm
Tannehill State Park
Tellus Science Museum
The Southern Museum
Topsail Hill Preserve
Townsend KOA
Townsend Tennessee
Twinbrook Resort
Up The Creek RV Camp - Park Details - Pictures
US Space and Rocket Center - Details and Pictures
Vogel State Park
Wild Animal Safari
World of Coke
Zoo Atlanta - Details and Pictures