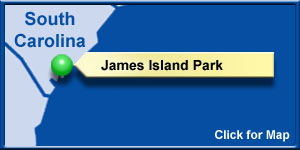 Overview
James Island, one of the Richardson Tribe's top ten destinations, is a fabulous county park located in Charleston County, South Carolina. While it's just a short drive from the city of Charleston, it has a very secluded and natural feel. The campground is almost tropical with shady sites, palmettos, trees, and an abundance of colorful little lizards and frogs.
There are many different features that make this park special. From the children's perspective, the water park was the best, and I have to say it really was wonderful. But the park also features thick forests and lush green lowlands with winding bike paths, one of which leads to a tidal creek and fishing dock. There are alligators, crabs, birds, kayaks and canoes. There is a very nice water-play area and a playground that we rate a 10 (which is a rare event).
For much more detail about the park, read our adventure journal below.
---
Adventure Journal
Entry Date: July 2009
Camping at James Island County Park, Charleston, SC
When the Tribe first started documenting PB&J Adventures, someone we met said we needed to go to a place called James Island near Charleston, South Carolina. Finally, 2.5 years later, we did just that, and boy were we pleasantly surprised.
The idea for the trip started with Rebecca looking for cheap airfare so the younger papooses could get the experience of flying. She found a flight between Atlanta and Charleston for $39, so it was on. After dropping off the van at the Atlanta airport, we started our journey to Charleston in Homer II on Saturday, July 25. Also joining us on this trip was Rebecca's Mom, otherwise known in our family as "Mother Goose." We arrived at the James Island County park around 6:30 pm, and were immediately impressed with the park's facilities. The kids were first to notice the "Splash Zone" water park located right across the street from our campground. The people staffing the campground office and store were very friendly and helpful. We located our site, which was very tropical (with full hookups, but no cable, you're local to Charleston).

Sunday morning started with a pancake breakfast at the campground activity center, just a short walk around the pond from our site. The kids would need the carbs and sugar for the next six hours of play at the water park.
We were waiting at the gate when the water park opened at 10am (tickets are $8 at the campground.)The place was immaculate, clean, fresh, like it was new (we learned later it was 13 years old). Everyone there was very friendly and professional (and there are a lot of people that work there). There is a large pool with a kiddy side and a deeper side (4') for swimming. There are two 200' water slides, a water-play ground, and a lazy river to relax on. We pretty much spent the whole day moving from one to another. I must emphasize the staff at this park. Each of the attractions had no less than 4-5 life guards. there were life guards on high seats and walking around the pool and play areas constantly. I have to commend the park's management for having found and trained such a professional staff. Never once did we fear that one of the kids might drown.
That evening we rode our bikes on some of the many miles of paved bike trails that cover the park. The kids discovered the large playground and couldn't resist. Everyone slept very well that night.
Monday morning we decided to visit Charleston proper. We drove across the long bridge entering the city and were amazed at all the sail boats. The kids got to see a large freight ship pulling through. We walked around the area admiring the architecture for a while before going to the Noisy Oyster (downtown market location) for lunch. from there, we walked through the open-air market and saw ladies making baskets. One lady spoke Gullah for the kids so they could hear what the language sounded like. After returning back to the camper, we decided to go back to the water park. They have a twilight rate of $6, so it was very affordable.
Tuesday was 2 for 1 day at the water park, and you know it, we had to go again. It was much more crowded, but still lots of fun. We rode our bikes some more, and played around the campsite. I had to do a lot of moving and packing, 'cause this was our last night.
Wednesday morning we got up early so I could take Rebecca and the kids to the airport for their flight home. I drove the Homer II back home where they were waiting for me.

In summary, we didn't even start to do all the things there are to do at and near James Island. Wildlife viewing is incredible. There are miles of paved bike trails running through lowlands and marshes. There are organized activities and events or everyone like crabbing and fishing. Then, of course, there are all the historical things to do related to Charleston. The verdict? Oh, we'll be back, but longer next time
The Richardson Tribe
Other Destinations:
Up
Amicalola Falls State Park
Beaches of South Walton.
Berry College
Big Kahunas
Biltmore House
Blairsville, Georgia
Callaway Gardens
Cataloochee Ski Area
Cave Spring
Cedar Creek Park
Charlestown State Park
Chattahoochee Bend State Park
Chattanooga Zoo
Chehaw Park
Cherry Hill Park
Chester Frost Park
Chieftains Museum
Choccolocco Mountain Off Road Park
Cloudland Canyon
Cloudmont Ski and Golf
Consolidated Gold Mine
Cohutta Wilderness
Cumberland Island
Dauset Trails
Disney's Fort Wilderness Resort
Desoto State Park
Doll Mountain Campground
Dollywood
Dunnaway Gap
Enota Mountain Retreat
Etowah Indian Mounds
Fall Creek Falls State Park
Florala State Park
Franklin D Roosevelt State Park
Fort Mountain State Park
Georgia Mountain Fairground
Georgia Veterans State Park
Gold n Gem Grubbin'
Helen Georgia
Hillcrest Orchards
James H Floyd State park
James Island Park
Jellystone Park- Cave City, KY
John Tanner Park
Lake Allatoona
Lake Sidney Lanier
Lake Winnepesaukah
Little River Canyon Center
Live Oak Landing
Lula Lake Land Trust
Mammoth Cave National Park
McIntosh Reserve
McKinney Campground
Moto Mountain Powersports
New Echota - Cherokee Capitol
Noccalula Falls Park details and pictures
Old Stone Fort Archaeology State Park
Pine Moutain RV
Red Top Mountain State Park
Ridge Ferry Park
Rocky Mountain Recreation Area
Rock Town - Pigeon Mountain
Rome GA
Salt Springs Recreation Area
Silver Springs
Stone Mountain Park
Tanglewood Farm
Tannehill State Park
Tellus Science Museum
The Southern Museum
Topsail Hill Preserve
Townsend KOA
Townsend Tennessee
Twinbrook Resort
Up The Creek RV Camp - Park Details - Pictures
US Space and Rocket Center - Details and Pictures
Vogel State Park
Wild Animal Safari
World of Coke
Zoo Atlanta - Details and Pictures