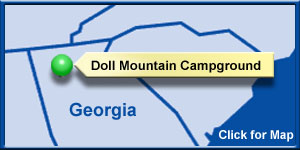 From the Feedback Page
Subject: Recent Camping Trip to Doll Mountain
Guest: Trenton & Elaine
Reports: Beautiful well kept campground. Staff went above and beyond on being helpful. We will definitely go back, and highly recommend this camp to anyone we like.

Overview
Doll Mountain campground is perched on a peninsula formed by a ridge protruding into Carters Lake. The 3,200 acre lake, located near Ellijay in north Georgia, is contained by the Blue Ridge Mountains and the largest earthen dam east of the Mississippi (the lake is 450 ' deep). The Coosawattee River feeds the lake cool clean water year round, providing great conditions for wildlife observation, fishing, and water sports. This is an Army Corps of Engineers lake, and our experience has been good with Corps facilities, especially of the camping variety. Doll Mountain campground is no exception. It's a beautiful campground.
This is definitely a boaters campground. There is a boat ramp and additional parking. Unfortunately, most of the sites do not facilitate easy access to a launched boat. The ridge that forms the campground is still pretty high, and the slopes are rather steep. If you plan to anchor your boat offshore, make sure you can access it. Water levels can change pretty quickly her overnight as well, so make sure to do a good job tying up those water craft (we had a PWC float away here one night many years ago).
The campsites, for the most part, are very nice. Their size and features can vary greatly. Some of the sites in the older section have very large decks with nice views. Doll Mountain's sites have water and electric, but no sewer.
The area has a lot to offer. Nearby Ellijay hosts the annual Apple Fest every fall, and it's a pretty little town to visit any time of year. Fort Mountain State Park, located on the edge of the Cohutta Wilderness, is just right up the road. Another must-see that's about a half hour away is New Echota, the only official capitol of the Cherokee Nation. There's much more (see the PB&J Map on our home page)

Please scroll down for lots of pictures and a PB&J Adventure Journal Entry.
---