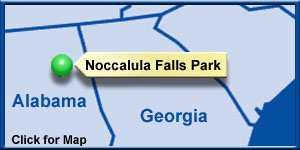 Overview
Noccalula Falls is located in Gadsden, Alabama. The waterfalls and the legend of the Native American (Creek) princess Noccalula are the central theme of this quaint little park. Actually, it's not just one little park, it's several smaller parks that, when combined, make for one awesome destination. While the legend is tragic (click the link for more about the legend), and the falls can be spectacular, the city has made this place much more. I believe the falls could dry-up, and the park would still draw visitors. It is a historic and beautiful place that we'd recommend to anyone. Here's a summary of the facilities:

Campground:
The campground has many top-notch features such as full hookups including sewer, 20, 30, and 50 amp electric service, and cable. Many of the sites are very nice, but some are in need of a little work. We loved camping there and thoroughly enjoyed the pool. Some sites have grills and most have a rock fire ring. Firewood and a wheelbarrow is available at the office Ice can also be purchased there.

Noccalula Falls Public Area (no fee)
The falls themselves are very pretty, but the volume of water can vary considerably. They appear very similar to Desoto Falls (Desoto State Park, Fort Payne, AL) and Fall Creek Falls State Park (Pikeville, TN). There are pavilions, a wedding chapel, walking path with a very pretty bridge, and a stellar playground, All this is accessible for no charge. There isn't even a parking fee. As a bonus, there's a Jack's restaurant on the premises. Great fast food!

Noccalula Falls Park (fee area)
Crossing the old arched bridge that connects the campground and chapel area to Noccalula Falls park, you will see the small gage train that circles the various attractions. Proceed on to the main entrance, but keep that train in mind. The fee to enter the park is very reasonable, and the "season pass" upgrade deal is just that, a "deal." For just a few bucks more, you can come back any time. And you will want to come back.

Once in the park, ride the scale train to the petting zoo. They have a wide variety of animals, but the coolest is a completely tame deer buck, antlers and all. He licked the kids hands, which gave them quite the thrill. There are also alpaca, goats, chickens, bunnies, sheep, and a lion (no petting).

From there, take a walk through all the historic buildings, a collection of structures from the 19th and early 20th century. Additionally, there are some rock formations to explore, and there is a strenuous hike to the base of the gorge where you can see the waterfalls from a unique behind-the-scenes perspective.

Miniature Golf (fee area)
While visiting Noccalula Falls Park, we highly recommend patronizing the miniature golf course. It's awesome! We played all 18 holes, and took full advantage of the "ball retrieval" nets that allowed us to snatch our stray balls from the numerous water hazards throughout the course. If you enjoy miniature golf, you will absolutely love this place. On the negative, this is not included in the park entrance. In fact, it cost us as much to play golf as it did to experience the rest of the park. Still, very affordable.

Summary
Noccalula Falls is a great place to spend a few days. There is plenty for the family to do, and the campground is a great place to park your RV or tent. Next time we visit, we'll check out Gadsden a bit more, but it looks like a really neat town.
---
Adventure Journal
Entry Date: July 2012
I was recently presenting to a group of Alabama teachers when I asked for suggestions for family destinations in their fine state. Numerous educators suggested Noccalula Falls in Gadsden, so I began researching and making plans immediately. The legend of Noccalula Falls comes from the story of a young Creek princess that had been promised to the prince of a neighboring tribe. But she was in love with another, so out of desperation and heartbreak, she flung herself off the falls and to her death 90 feet below. We enjoy Native American history and legend, but frankly, it was the rest of the park that got my attention.
Gadsden is a relatively short drive for us, so it worked out to be a great weekend getaway. We left mid afternoon on a Friday and arrived at the Noccalula Falls campground in plenty of time for the kids to enjoy the pool and the walk to the park's playground and falls. The campsite I selected turned out to be perfectly level, so setup was a breeze. We got a little rain through the night, but no storms. Nothing is more relaxing than a light rain on a camper's roof.
The rain continued until mid-morning Saturday, so we had a slow lazy start for the day. When the skies cleared, we headed-out for Noccalula Falls Park. It's a quarter-mile walk, but easy and extremely scenic. From the campground, we walked along a pathway that winds through the public access area, past the wedding chapel, and over a little arched bridge which crosses the stream feeding the waterfalls. The flow of the water affects the beauty of the falls, and on this visit there was some water, but nothing spectacular. If you'd like to see it really roaring, watch this video. Past the falls we could see the scale train and some Teepees.
After paying our admission to the park (which was very reasonable), we boarded the train. It's a small scale train, and the kids loved it. Our first stop was the "petting zoo." We love animals, so this was the highlight of the park. They have a lion that seemed particularly interested in Heath. No, you can't pet the lion. The actual petting zoo area had alpaca, goats, a big ram, lambs, a variety of goats, rabbits, and many other cute fuzzies. Our favorite was a very friendly buck that loved attention and liked to lick the kids' hands.

We wandered through all the old building and tried to imagine what it was like to live in one of these old cabins 200 years ago, especially with no air-conditioning. This part of the park features a very old covered bridge that crosses a coy pond. The fish were massive, inducing ooohs and ahhhs from all of us. Just past the impressive collection of historic buildings is the access to the base of the falls. We decided on this hot humid day, that the view from the top of the falls would be just fine. We did explore the cracks and crevices in the limestone formations. It reminded us of Rock Town near Lafayette, Georgia.
After lunch at the resident Jack's restaurant, we walked to the Noccalula Falls miniature golf course. Most people suggested we drive, but we could see it from where we were. It was a whopping 1/8 mile. We were disappointed when we discovered that the cost of miniature golf wasn't included in the park's admission. Any disappointment quickly vanished when we saw the course. Very very nice! The course was designed and constructed by a company that specializes in miniature golf courses. We played all 18 holes, and had a blast in the meantime.

We concluded our day with a swim, some Frisbee, and a roaring campfire. I can't recall a better time we've ever had. We decided we want to come back in the fall, and perhaps at Christmas when the lights are on. The campground is open year-round, but the park is not. Make sure to check their website or call for open/close dates and hours. In the meantime, go somewhere! Do something!
The Richardson Tribe
Other Destinations:
Up
Amicalola Falls State Park
Beaches of South Walton.
Berry College
Big Kahunas
Biltmore House
Blairsville, Georgia
Callaway Gardens
Cataloochee Ski Area
Cave Spring
Cedar Creek Park
Charlestown State Park
Chattahoochee Bend State Park
Chattanooga Zoo
Chehaw Park
Cherry Hill Park
Chester Frost Park
Chieftains Museum
Choccolocco Mountain Off Road Park
Cloudland Canyon
Cloudmont Ski and Golf
Consolidated Gold Mine
Cohutta Wilderness
Cumberland Island
Dauset Trails
Disney's Fort Wilderness Resort
Desoto State Park
Doll Mountain Campground
Dollywood
Dunnaway Gap
Enota Mountain Retreat
Etowah Indian Mounds
Fall Creek Falls State Park
Florala State Park
Franklin D Roosevelt State Park
Fort Mountain State Park
Georgia Mountain Fairground
Georgia Veterans State Park
Gold n Gem Grubbin'
Helen Georgia
Hillcrest Orchards
James H Floyd State park
James Island Park
Jellystone Park- Cave City, KY
John Tanner Park
Lake Allatoona
Lake Sidney Lanier
Lake Winnepesaukah
Little River Canyon Center
Live Oak Landing
Lula Lake Land Trust
Mammoth Cave National Park
McIntosh Reserve
McKinney Campground
Moto Mountain Powersports
New Echota - Cherokee Capitol
Noccalula Falls Park details and pictures
Old Stone Fort Archaeology State Park
Pine Moutain RV
Red Top Mountain State Park
Ridge Ferry Park
Rocky Mountain Recreation Area
Rock Town - Pigeon Mountain
Rome GA
Salt Springs Recreation Area
Silver Springs
Stone Mountain Park
Tanglewood Farm
Tannehill State Park
Tellus Science Museum
The Southern Museum
Topsail Hill Preserve
Townsend KOA
Townsend Tennessee
Twinbrook Resort
Up The Creek RV Camp - Park Details - Pictures
US Space and Rocket Center - Details and Pictures
Vogel State Park
Wild Animal Safari
World of Coke
Zoo Atlanta - Details and Pictures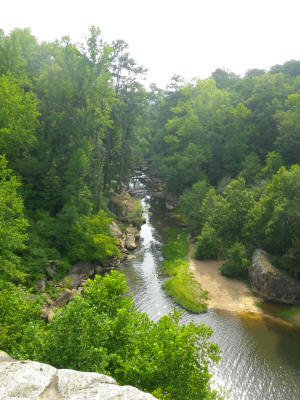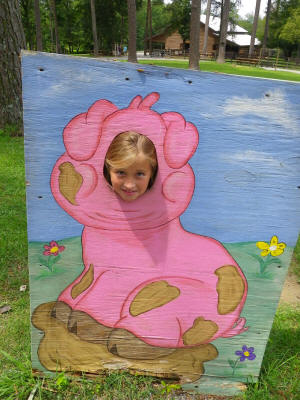 Special Event - Christmas at the Falls
November 24 through December 23

NEWS! Noccalula Falls is Rated as Alabama's Most Stunning Natural Wonder!

Features

Rating (1-10)

Description

Official Website
7
The website belongs to the city of Gadsden, and it's attractive enough, but difficult to get detailed information about the facilities and the campground. It needs lots more pictures, a map of the entire park(s), and more information regarding hours and costs.
Campground - Details

8

The campground features over 100 sites, but not all are in service. They have a handful of pull-through sites, but most are back-ins. Most sites have full hookups including water, electric (20/30/50), sewer, and cable (great reception, many channels). While it's not "state park quality," the campground is convenient with relatively level sites.
Hiking
8
The city of Gadsden recently invested lots of money building a new walking trail along the rim of the Noccalula Falls gorge. You can also hike to the base of the falls from within the park.
Kayaking
10
Well, I can't seriously endorse kayaking here. It's a great way to kill yourself. Watch this...
Playground(s)
9
There is a smallish playground at the campground, but the one in the public access area of the park is awesome. The kids wanted to just stay there forever.
Fishing and Boating

8

Gadsden is located on the Coosa River where fishing and boating abound. It is also very near Lake Weiss.
Rockhounding

8

We poked around a little and found some interesting rocks. There should be an abundance of fossils and artifacts in this area.
Local Attractions

9

I wish we knew more about the immediate area, We will learn! In the meantime, within a reasonable drive you will find Desoto State Park, Cedar Creek Park, Lake Wyse, Little River Canyon Center, Cave Spring, and much more...
Note: We rate only the amenities we have personally reviewed.

No financial consideration or favor has been received for listing in PB&J Adventures' website. We are in no way affiliated with this facility or any other facility we review. Any paid advertising seen on this site was arranged after the destination was reviewed. You can trust the reviews to be unbiased.
---