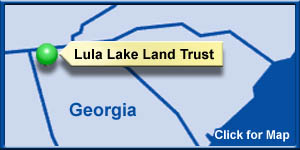 Overview
The Lula Lake Land Trust is a privately owned 4,000 acre preserve on Lookout Mountain in Northwest Georgia. Lookout Mountain is a massive, cave riddled, and heavily forested limestone ridge that stretches from North Alabama to Tennessee. Lula Lake is very near the town of Lookout Mountain, Georgia and a good many entertaining attractions typically associated with Chattanooga, Tennessee.

Lula Lake Land Trust has a lot to offer a family with energetic children. Its natural beauty and outdoor activities such as hiking, mountain biking, wildlife watching, and fossil hunting make this a memorable destination. Oddly, the land is open to the public only on the first and last Saturdays of each month. Just show-up, sign-in, and enjoy. If you want to make arrangements for a group field trip, you can contact the land manager to request special arrangements.

The property was the home to the Durham coal mine around the turn of the 20th century, and the mine's tailings have tons of fern fossils. The part of the property that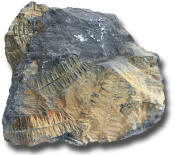 contains the mine tailings is not typically open to the public, but the Land Manager told us arrangements could be made for small groups to visit the site.
There are apparently numerous trails covering the property, and a new trail connecting the Lula Lake property to Cloudland Canyon State Park is being cleared for hiking, mountain biking, and horseback riding. The main trail we walked on is an rail bed for the train that carried coal off the property. It's a really interesting walk along Rock Creek. Lula Lake itself is little more than a pool in the creek that accumulates just before a small waterfall, but the view from the old renovated Iron bridge is quite nice. Further down the trail is another larger waterfall, and the climb down to the base and back out makes for some pretty good exercise.
While in the area, consider visiting the tourist attractions like Ruby Falls, Rock City, and the Inclined Railway. All these attractions overlook Chattanooga and its awesome Tennessee Aquarium, Tennessee River, Chattanooga Choo Choo, and a really neat little zoo.

Fern photo credit- BigstockPhoto.com
---
Adventure Journal
Entry Date: November 2008
This is a place that I wanted to visit for a long time, but I had a hard time coordinating a visit because of their odd gate schedule. On this particular day, a high school geology club and the Rome, Georgia Mineral Society were at the land trust searching for fossils. Unfortunately, The Tribe was unable to participate in the fossil hunt, but we'll come back again soon. We did have a nice little hike to Lula Lake and Lula Falls just beyond. I climbed down to the base of the falls and took some pictures, then I complained a lot about sore legs after climbing back out. We saw a snake and some other critters too, but not nearly as many as we saw on Sunday at the Chattanooga Zoo.
The Richardson Tribe
Other Destinations:
Up
Amicalola Falls State Park
Beaches of South Walton.
Berry College
Big Kahunas
Biltmore House
Blairsville, Georgia
Callaway Gardens
Cataloochee Ski Area
Cave Spring
Cedar Creek Park
Charlestown State Park
Chattahoochee Bend State Park
Chattanooga Zoo
Chehaw Park
Cherry Hill Park
Chester Frost Park
Chieftains Museum
Choccolocco Mountain Off Road Park
Cloudland Canyon
Cloudmont Ski and Golf
Consolidated Gold Mine
Cohutta Wilderness
Cumberland Island
Dauset Trails
Disney's Fort Wilderness Resort
Desoto State Park
Doll Mountain Campground
Dollywood
Dunnaway Gap
Enota Mountain Retreat
Etowah Indian Mounds
Fall Creek Falls State Park
Florala State Park
Franklin D Roosevelt State Park
Fort Mountain State Park
Georgia Mountain Fairground
Georgia Veterans State Park
Gold n Gem Grubbin'
Helen Georgia
Hillcrest Orchards
James H Floyd State park
James Island Park
Jellystone Park- Cave City, KY
John Tanner Park
Lake Allatoona
Lake Sidney Lanier
Lake Winnepesaukah
Little River Canyon Center
Live Oak Landing
Lula Lake Land Trust
Mammoth Cave National Park
McIntosh Reserve
McKinney Campground
Moto Mountain Powersports
New Echota - Cherokee Capitol
Noccalula Falls Park details and pictures
Old Stone Fort Archaeology State Park
Pine Moutain RV
Red Top Mountain State Park
Ridge Ferry Park
Rocky Mountain Recreation Area
Rock Town - Pigeon Mountain
Rome GA
Salt Springs Recreation Area
Silver Springs
Stone Mountain Park
Tanglewood Farm
Tannehill State Park
Tellus Science Museum
The Southern Museum
Topsail Hill Preserve
Townsend KOA
Townsend Tennessee
Twinbrook Resort
Up The Creek RV Camp - Park Details - Pictures
US Space and Rocket Center - Details and Pictures
Vogel State Park
Wild Animal Safari
World of Coke
Zoo Atlanta - Details and Pictures
Features

Rating (1-10)

Description

Official website
7
I realize that it may not be in the trust's goal to promote the property for public use. Maybe that's why the website is so vague and outdated. I'm sure it is done by a volunteer, and it's really not bad. It could just be better.
Campground

8

There is no campground at Lula Lake, but Cloudland Canyon is nearby. In fact, they are building a (very long) trail that connects the park with the property. There is also a KOA in the town of Lookout Mountain, GA.
Hiking
10
Many miles of hiking and biking.
Biking (Mountain)

10

Many miles of hiking and biking.
Geocaching

*

Geocaching is available in the area, but we didn't have a chance.
Rockhounding,
Fossil Hunting

9

Lula Lake is located at the site of the old Durham coal mine. We haven't had the opportunity to experience a dig there, but we understand the fern fossils found in the mine tailings are awesome. The website often announces opportunities to visit this part of the preserve.
Local Attractions

10

Wow - Let's see... Lookout Mountain, Rock City, Ruby Falls, Cloudland Canyon State Park, Chattanooga, Chattanooga Choo Choo, Chickamauga Battlefield, Chattanooga Zoo, Chattanooga Nature Center, Harrison Bay State Park, Chester Frost Park, Incline Railway, Tennessee Aquarium, Tennessee River, Mentone, Alabama, Sequoia Caverns, Lake Winnepesaukah, and much more.
*Note: We rate only the amenities we have personally reviewed.

No financial consideration or favor has been received for listing in PB&J Adventures' website. We are in no way affiliated with this facility or any other facility we review. Any paid advertising seen on this site was arranged after the destination was reviewed. You can trust the reviews to be unbiased.
---