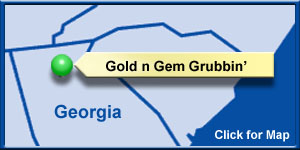 Overview
Gold n Gem Grubbin' is located near Cleveland, Georgia in the North Georgia mountains. The history of this destination, both long and short-term, is very interesting.

Long term history - The property at Gold n Gem Grubbin' was originally part of the Loud Mine. Prior to the Civil War, the Loud Mine produced 2 of the 7 million dollars worth of Gold bullion coins produced at the nearby Dahlonega Mint. In those days, miners used hydraulics to erode the loose earth, dislodging gold that was eventually separated. Unfortunately, the war between the states put an end to most mining in Georgia. Some small mining operations attempted to continue, but most of the "easy" gold had been swept-up in the gold rush, and the gold that was left, while plentiful, was just too hard to mine to be profitable. In addition, gold finds in other parts of the world where labor costs were/are almost non-existent rendered US gold mines bankrupt. Keep in mind, the gold's still there, the Dahlonega gold rush just scratched the surface. Fast forward 150 years...

Short-term history
If the long term history weren't interesting enough, the short-term should be a book. Visit the Gold n Gem Grubbing website for the awesome story of how this place came to be.
Obviously, the whole idea of Gold n Gem Grubbin is panning for gold and grubbin' for gems. The Gem Shack provides a very nice covered slough where treasure hunters can search through "enriched" buckets of sand for semi-precious gemstones, or pan for gold using processed ore dug from the facility's on-site pit mine. The creek also provides a place to pan and rockhound in a bit more realistic manner. Read the PB&J Adventure Journals below for more information on the creek.

Gold n Gem Grubbin' has its own small RV campground with full hookups (water, electric, sewer, but no cable or antenna reception). Additionally, there are several creek-side primitive campsites that are awesome if you prefer tent camping. I wanted to pull the motorhome down there, but we needed air conditioning in this warm weather. The RV campground is pretty rustic by most standards, but it will do. The campground is secondary to the other business of treasure hunting.
---
Adventure Journal
Entry Date: September 2011
For this long Labor Day weekend holiday, we decided to re-visit Gold n Gem Grubbin' in Cleveland, Georgia for a rockhounding adventure. In addition to providing an awesome place to pan for gold, grub for gems, and generally rockhound, the campground provides a great home-base while exploring this part of Georgia. Some friends joined us on this trip, so the kids had friends to play with at the campground. And play they did. We were so happy they were getting exercise.
Our first full day was a Saturday, and we decided to spend it exploring the area. Blairsville was hosting a Mountain Heritage Festival, so that was our first destination. We had a hankerin' for some funnel cake, home-made ice cream, folk music, and farm animals. We swung into Vogel State Park on the way. We've stayed at Vogel just once, but we loved it. We're coming back Thanksgiving! The festival in Blairsville was a lot of fun, and we saw many works of art, and lots of folks working at it. All our expectations were filled before having a picnic lunch and heading for Helton Creek Falls to play in the water.
Eventually, we concluded our day back at the Gold n Gem Grubbin' campground by a nice fire. We knew tomorrow would be filled with treasure hunting and discovery, not to mention a little playing in the creek.
Sunday morning, we loaded-up our prospecting gear and headed for the creek. At Gold n Gem Grubbin', treasure seekers pay a fee which covers all the pans, screens, buckets, and shovels you need to dig from the pile of processed material they dump next to the creek. You simply carry your bucket up to the pile, fill it with the shovel, strain the rocks out with the screens, then sit or stand in the creek and pan away the dirt and sand. Sounds easy. Unfortunately on this day, we had no luck. I think I found two flakes, and that was about it. We did find some garnet, amethyst, nicely formed quartz crystals, and lots of pyrite (fools gold).
When we'd had enough of the creek and panning, we headed for the "Gem Shack" for some gem grubbin' from "enriched" buckets of rock and sand. Sure, it's cheating, but the kids (and adults) sure have a lot more fun when they find stuff. We've done this in a number of places, and I have to say, gold n Gem Grubbin' is pretty liberal with their gemstones. Of course, they hope you'll let them cut the stones for jewelry. If you decide to use this service, you'll end-up with a very nice piece of jewelry made from a gem you found. It's a lot of fun, and good for the kids too.
The last two pictures in this adventure show how dirty the Jeep got this weekend and how well my tires are wearing. The BF Goodrich TA Radials have almost 60,000 miles on them, and should last another 10,000 with no problem. I think I may buy the same thing next time.
The Richardson Tribe
Scroll Down for more pictures and another Adventure Journal entry.
Adventure Journal
Entry Date: August 2008
We headed for Cleveland, Georgia after school on Friday. The plan was to meet two other families in at the campground in Cleveland. It's not a long drive (distance wise), but there are a lot of curvy roads along the way. We were heading for Gold N Gem Grubbin', a commercial mine just west of Cleveland. I had done some research and found Gold n Gem Grubbin' had a campground on the property with full hookups. There was very little information about the campground on their Website, so I called them to ask more questions. The owner, Brian Devan, went to the campground and took pictures with his phone and emailed them to me. I was still a little wary, but my worries were gone when we got there. Some "RV Park" campers" might find the campground a little too rustic. The inner roads are not paved and there's no cable (boo hoo). There had originally been 16 sites, but they eliminated every other one doubling the space for each camper. So, with only 8 sites, it's like we had our own campground. There was a lot of room with our campers almost circled (sites 5, 6, 7) around a campfire and picnic area. My only negative with regards to their campground is that there was no more information on their Website. Mr. Devan explained that they weren't really trying to make a run at being a commercial campground. The intent is to provide an amenity for their mining customers. One thing is for sure, all the kids sure enjoyed playing the games we brought in the wide open space of the campground.
Up the Creek...
Our plans for the first full day at Gold n Gem Grubbin' involved playing in the dirt and the creek. We got up, ate breakfast, loaded-up and drove over to the main office/gem shack. We were pleased with the personal attention the Tribe received from Stacy. Daddy spoke with one of the owners, Brian Devan (this guy has quite a story), briefly about the campground before we all loaded-up and went to the creek for some gold panning and gem grubbin'.

To me, this was the best part of the trip. All the kids looked for rocks and gold while getting downright wet and nasty. We found very little gold, but Lee Thomas found a fist sized amethyst, and Mommy found two almost perfect quartz crystals. Everyone found something to take home, but most of all, they had big fun. It cost this family of 6 only $37.00 for four hours of entertainment. That's a pretty good deal (keep in mind that three of our kids were free because they were under 7). Here is a link to their creek mining prices.
The Gem Shack...
Our Second day at Gold n Gem Grubbin' was spent at the Gem Shack screening enriched buckets of ore. When we first started rockhounding, I was disappointed in the fact that commercial mines enriched their buckets of ore. With kids, it's really necessary. If they don't find a reward, they'll lose interest. I can honestly say that the buckets we purchased at Gold n Gem Grubbin' had far more nice specimens than any other mine we have visited. Take a look at the last picture in the series to the right for the day's findings.
We learned about this place by watching "Best Places to find Cash and Treasure" on the Travel Channel. I'm not sure if that particular episode is available anymore, but the host found a large gold nugget and a big chunk of amethyst (as did we). The picture at the bottom shows our finds for the day. The bag (corner at top of of picture) contains rubies. We also found sapphire, amethyst, nicely formed quartz crystals, rose quartz, pyrite, blue topaz, fluorite, calcite, emerald, tiger eye, etc. This is one of the Tribe's favorite hobbies.
The Richardson Tribe
Other Destinations:
Up
Amicalola Falls State Park
Beaches of South Walton.
Berry College
Big Kahunas
Biltmore House
Blairsville, Georgia
Callaway Gardens
Cataloochee Ski Area
Cave Spring
Cedar Creek Park
Charlestown State Park
Chattahoochee Bend State Park
Chattanooga Zoo
Chehaw Park
Cherry Hill Park
Chester Frost Park
Chieftains Museum
Choccolocco Mountain Off Road Park
Cloudland Canyon
Cloudmont Ski and Golf
Consolidated Gold Mine
Cohutta Wilderness
Cumberland Island
Dauset Trails
Disney's Fort Wilderness Resort
Desoto State Park
Doll Mountain Campground
Dollywood
Dunnaway Gap
Enota Mountain Retreat
Etowah Indian Mounds
Fall Creek Falls State Park
Florala State Park
Franklin D Roosevelt State Park
Fort Mountain State Park
Georgia Mountain Fairground
Georgia Veterans State Park
Gold n Gem Grubbin'
Helen Georgia
Hillcrest Orchards
James H Floyd State park
James Island Park
Jellystone Park- Cave City, KY
John Tanner Park
Lake Allatoona
Lake Sidney Lanier
Lake Winnepesaukah
Little River Canyon Center
Live Oak Landing
Lula Lake Land Trust
Mammoth Cave National Park
McIntosh Reserve
McKinney Campground
Moto Mountain Powersports
New Echota - Cherokee Capitol
Noccalula Falls Park details and pictures
Old Stone Fort Archaeology State Park
Pine Moutain RV
Red Top Mountain State Park
Ridge Ferry Park
Rocky Mountain Recreation Area
Rock Town - Pigeon Mountain
Rome GA
Salt Springs Recreation Area
Silver Springs
Stone Mountain Park
Tanglewood Farm
Tannehill State Park
Tellus Science Museum
The Southern Museum
Topsail Hill Preserve
Townsend KOA
Townsend Tennessee
Twinbrook Resort
Up The Creek RV Camp - Park Details - Pictures
US Space and Rocket Center - Details and Pictures
Vogel State Park
Wild Animal Safari
World of Coke
Zoo Atlanta - Details and Pictures
Features

Rating (1-10)

Description

Official website
9
The site has a lot of information about their primary business, gold panning and gem grubbing. It has little information about the campground. Just two pictures, and one is of our Jeep and our first Homer (RV).
Campground - Reserve
You'll need to call.

8

8 full hookup RV Campsites ($28) - No Cable. Fairly rustic campground with rocky inner roads (not a place for bike riding). This is a great place to camp when visiting the area.
Geocaching

*

Geocaching is available, but we didn't have a chance.
Rockhounding, Gold Panning, Gem Grubbing, Custom Jewelry.

10

Rock Hounding is what Gold n Gem Grubbin' is all about. In addition, Dahlonega is also nearby.
Local Attractions

10

Smithgall Woods, Helen, Tallulah Gorge State Park, Unicoi State Park, Vogel State Park, and much much more.
*Note: We rate only the amenities we have personally reviewed.
**Accommodation pricing is based on 2010 Gold n Gem Grubbin' website pricing.

No financial consideration or favor has been received for listing in PB&J Adventures' website. We are in no way affiliated with this facility or any other facility we review. Any paid advertising seen on this site was arranged after the destination was reviewed. You can trust the reviews to be unbiased.
---