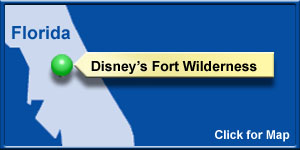 Overview
Fort Wilderness, a Disney resort, is located just across the lake from Disney's Magic Kingdom. A short boat ride delivers you to the park's gate. In fact, from here, you can get to every Disney attraction either by boat or bus. Once you're a guest of the Disney campus, everything gets a lot easier.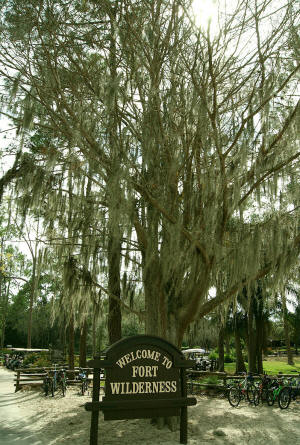 First and foremost, Fort Wilderness is truly an RV resort at its finest. The full hookup (incl. cable) campsites are large with lots of tropical vegetation providing considerable privacy. While the quality of the campsites is consistent, their "quietness" can vary considerably (see PB&J Adventure Journal below). I must say it's difficult to find a site you to really complain about. On the other hand, until I stay in those sites, I'll never really know. On another note: There seems to be a real "Disney/Mickey Mouse" theme with many of the campers. It's entertaining to ride through the campground looking at the many colorful and flashy decorations, lights, stuffed animals, and so much more. It's borderline magic and tacky, perfect for this north Georgia family.
The amenities at Fort Wilderness are awesome. Virtually every activity in the park has a component for the kids. For instance, the massive pool (featuring a water slide) is the site of many afternoon games designed to keep the kids active and entertained. Other features include bike riding on nice paved roads, off road Segway tours, horseback trail riding, sandy beach, pontoon and speed boat rental, golf carts, bike rental, horse farm, volley ball, tennis, basketball, canoes, golf, and I almost forgot, THE MAGIC KINGDOM!
And that brings me to the local attractions. Well, that's pretty easy. Obviously, the park is made for the Magic Kingdom. Simply hop on the shuttle, golf cart, or bike (no cars and no parking) and head down to the dock for a free ferryboat ride to the park. All the Disney properties (Animal Kingdom, Epcot, etc.) are easily accessible from here. Within half an hour of Fort Wilderness are many of Orlando's other offerings. Universal Studios' parks, including the new Harry Potter portion of Universal's Islands of Adventure are all just a short drive away. Don't forget Sea World, not to mention, all the dozens of other family attractions in the family fun corridor. There is no arguing. You would be hard-pressed to get bored here.
In summary, I'll admit we loved this park. It was great for the kids and grown-ups alike. It was convenient and easy. If you plan to go, I'd suggest taking bikes (with lights), or renting a golf cart (reserve in advance). The buses are very convenient, but frustrating to wait for late at night after watching the fireworks across the lake.
---
Adventure Journal
Entry Date: February 2012
Being a Christmas gift to the children, this short Florida vacation had been on the drawing board for several months. Over the years, we have heard how great Disney's Fort Wilderness is, so it was time to find out for ourselves. Granted, a trip like this doesn't fit our typical theme of affordable places to go, but face it, everyone should take their kids to Disney occasionally. As it turns out, we may have discovered a pretty reasonable way for a family of six to enjoy the Orlando attractions without refinancing the home. Going through the Disney resorts website, we were able to get a "premium" site (and it was awesome) for five nights, and six tickets to Magic Kingdom for a day for all of us for under a thousand dollars. We also visited Universal Studios Islands of adventure during our stay, but we dedicated two full days to fun at the Fort Wilderness campground.
We arrived at Fort Wilderness after a long 9+ hour drive (with a fuel stop). The office was open and we were met with open arms. The friendly staff had us registered and on our way to the campsite in no time. By the time I hooked-up water and electricity, unloaded the Jeep, stored the trailer, and hit the bed, it was 2am. The plan was to head for the Magic Kingdom first thing in the morning. I was relieved when the crew slept just a little later than planned. When we did emerge from the camper, we were amazed at the beauty of our surroundings. Palmettos, shrubs, and tall pine trees draped with Spanish moss surrounded our campsite.
To get to the Magic Kingdom from Fort Wilderness, we rode the shuttle bus a short distance to the dock area. From there, it's a free boat-ride to the park. This is also where the beach, Settlement Trading Post, Pioneer Hall (food, drink, dinner theater), and Tri-Circle D Horse Farm are located. Campers can choose to ride the bus, bikes, golf carts, or walk. There is no parking for cars here. You are expected to leave your vehicle at the campsite except when leaving and re-entering the park. One of the great features of staying at Disney resort is convenience of coming and going. That night, we stayed at the Magic Kingdom for the fireworks, then enjoyed a leisurely boat ride back to the campground. No parking lots. No traffic. No crowd. No hassle. Just lots of fun.
Our second day in Orlando found us at Universal's Islands of Adventure. For this, we had to drive approximately 30 minutes. As the crow flies, Fort Wilderness is very close to everything. However, by road, it seems to be in the middle of nowhere. After a second late night of amusement park fun, I was looking forward to two full days at Fort Wilderness to explore and rest.
We brought our bikes on this trip, and we were glad we did. There are many paved bike paths, and not a hill on any one of them. On our first full day dedicated to exploring Fort Wilderness, we rode back to the dock/beach area to visit the Tri-Circle-D Ranch. We'd hoped it was a petting zoo with a variety of animals. We were disappointed that it was strictly a horse ranch. It was still fun to see the horses though. Kids can ride ponies here for $5.00. As we explored the campground, we discovered a wonderful pool we'd half expected to be closed for the season. It was not closed. In fact, it was bustling with activity. The Disney staff were keeping kids entertained with games and dance. We joined the party and spent much of the day right there. At dusk, we headed for the campfire sing-along and marshmallow roast followed by a showing of Toy Story-2 on the large outdoor screen. The movie ended just in time for us to ride our bikes to the beach to see the Magic Kingdom's firework show across the lake. Spectacular! They even pipe the sound in from the park so campers can follow the show. This day ranked right up there with any amusement park in my opinion.
On the second full day at Fort Wilderness, we decided to rent a golf cart. We were all a little sore from bike riding the previous day, and besides, it looked like fun. Golf Carts are the primary mode of transportation in Fort Wilderness. They can be rented ($50+ daily), or you can bring your own. From the golf cart we explored much of the park. We enjoyed riding through all the campground loops, admiring some of the rigs and their elaborate decorations. People really love their Mickey and Minnie. During our exploration, we also checked-out the rental speed boats, pontoon boats, canoes, and horseback riding. There is even a back-woods Segway tour available.
We closed our last day at Fort Wilderness by eating out for the first time on the trip at Trails End Restaurant (very good) and, once again, sitting on the sandy beach watching the fireworks show across the lake.

None of us wanted to leave Fort Wilderness when our time was spent. Packing-up and driving home was a dreary affair. Rebecca is already planning a trip for next year.
PS- We couldn't have asked for a better site from a convenience standpoint. There was a playground, basketball court, and volleyball court just outside our door. Additionally, there was a shuttle stop just about 50 feet away. This was all great until first thing in the morning when the shuttles started running and campers started practicing basketball. I'd suggest finding a site just a little further back on a loop if you want some peace and quiet.
The Richardson Tribe
Other Destinations:
Up
Amicalola Falls State Park
Beaches of South Walton.
Berry College
Big Kahunas
Biltmore House
Blairsville, Georgia
Callaway Gardens
Cataloochee Ski Area
Cave Spring
Cedar Creek Park
Charlestown State Park
Chattahoochee Bend State Park
Chattanooga Zoo
Chehaw Park
Cherry Hill Park
Chester Frost Park
Chieftains Museum
Choccolocco Mountain Off Road Park
Cloudland Canyon
Cloudmont Ski and Golf
Consolidated Gold Mine
Cohutta Wilderness
Cumberland Island
Dauset Trails
Disney's Fort Wilderness Resort
Desoto State Park
Doll Mountain Campground
Dollywood
Dunnaway Gap
Enota Mountain Retreat
Etowah Indian Mounds
Fall Creek Falls State Park
Florala State Park
Franklin D Roosevelt State Park
Fort Mountain State Park
Georgia Mountain Fairground
Georgia Veterans State Park
Gold n Gem Grubbin'
Helen Georgia
Hillcrest Orchards
James H Floyd State park
James Island Park
Jellystone Park- Cave City, KY
John Tanner Park
Lake Allatoona
Lake Sidney Lanier
Lake Winnepesaukah
Little River Canyon Center
Live Oak Landing
Lula Lake Land Trust
Mammoth Cave National Park
McIntosh Reserve
McKinney Campground
Moto Mountain Powersports
New Echota - Cherokee Capitol
Noccalula Falls Park details and pictures
Old Stone Fort Archaeology State Park
Pine Moutain RV
Red Top Mountain State Park
Ridge Ferry Park
Rocky Mountain Recreation Area
Rock Town - Pigeon Mountain
Rome GA
Salt Springs Recreation Area
Silver Springs
Stone Mountain Park
Tanglewood Farm
Tannehill State Park
Tellus Science Museum
The Southern Museum
Topsail Hill Preserve
Townsend KOA
Townsend Tennessee
Twinbrook Resort
Up The Creek RV Camp - Park Details - Pictures
US Space and Rocket Center - Details and Pictures
Vogel State Park
Wild Animal Safari
World of Coke
Zoo Atlanta - Details and Pictures