Feedback:
We enjoy reading emails from our new friends. Here are some examples:
---
Hello! A friend of mine sent me a link to your Salt Springs, Florida page, and as I looked around the page and your site, I loved what I saw. I have just created my first bookmark for camping locations and your site is it. thanks for all the great reviews and information on locations.
Ruben
---

My family will be taking our FIRST trip to Fort Mountain over Labor Day weekend, thanks to ya'll! We are very excited. Thanks for a great website!
Joey and Family

---

I absolutely love your website. We have a travel trailer that we've had a little less than a year. We are still pretty new to camping with our travel trailer. We are going to Tannehill this weekend. We live in Prattville, Alabama and love that you have so much information on campgrounds close by. It is frustrating that so many campgrounds have very little info and pictures on their website. I've marked you in my favorites and plan on using it as a tool to plan upcoming trips. We have three kids and the information and pictures you provide really help us to decide what is a good place for our family. Thanks so much!
David and Family

---

"What a great website! We are new to RVing, and are leaving south Florida in the next day or two. You go to a lot of the places we will be visiting. Thanks for your guides. Here we go....."
Cindy and Alan

---
"Thanks so much for the article on the Crooked River State Park and Cumberland Island area! We just enjoyed a fun filled week! We saw so much wild life. We were close to the Okefenokee, Cumberland Island, St. Mary's, and too much more to mention! The park was super clean and the campsites were large. We definitely plan to go again! Thanks again!"
Lee and Family

---
"I wish I had many hours to sit here and read every piece of information and every adventure on your site! I love it and hope that I can visit/camp at some of the places the Richardson Tribe has ventured to!"
Kristin

---

I really appreciate your website. Your descriptions and pictures are so helpful in deciding our next place to visit. We had been considering Desoto (State Park) as our next camping trip, and your website, I think, has sealed the deal.
Marcie and Family

---

I have really enjoyed your website! It is inspirational!
Charles
A Note from the Richardson Tribe:
Welcome to PB&J Adventures. We are an extremely curious family of six that enjoys exploring, playing, and learning. We have always made an effort to go somewhere and do something as often as possible, leaving the house, chores, and everyday worries behind.

Initially our adventures lasted only a day, so we would pack a lunch, often PB&J sandwiches (which inspired the name of our adventures). Sometimes the adventures were framed by an event like a fair or festival, however, most adventures were based on local places, their unique history or features, and any available activities at that location or in the immediate area (we do, after all, have children).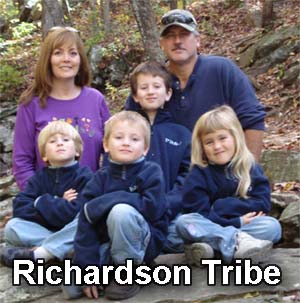 Eventually the adventures became a major part of our lives, sometimes lasting several days at a time. In 2007, we began documenting our adventures on a family website. Much to our surprise, many friends and family members wanted to experience their own adventures or join us for ours. Such was the inspiration for this website.
Our mission is to make the planning of your adventures easy and predictable. We have done the research and have personally visited and reviewed all listed sites. The PB&J Adventures website features detailed information about places to go and things to do. Destination reviews include lots of pictures, campground or lodging details, fun and educational things to do in the vicinity, dates of local events, maps for directions, links to official websites and reservations, and most importantly, a personal account of a local adventure by a real family.
We hope you enjoy the website, and we sincerely hope your family experiences the same benefits we have. If you have questions about any of the sites or events we recommend, please contact us.

Thanks for visiting PB&J Adventures.

Destination and event of the Week:

Mammoth Cave National Park is located between Bowling Green and Louisville, Kentucky. It's a beautifully wooded and rugged part of the country. The park's limestone foundation is riddled with hundreds of miles caves. In fact, Mammoth Cave is the longest cave system in the world. Much of the cave is without mineral formations, but the sections of the cave with formations are quite amazing. At nearly 400 explored miles, the sheer size of the cave is hard to fathom, and makes the trip worthwhile.


Above ground, this 52,835 acre park is just as awesome as its Swiss cheese basement. The forest is open and clear underneath the massive hardwoods. The dense overhead canopy and abundant wildlife contribute to underbrush control. It's a very well preserved and clean national park brimming with natural beauty and furry creatures.


Near the park's visitor center is a the Mammoth Cave Hotel and the park's primary campground. There are many options for lodging within the park, but camping, while very picturesque and natural, is limited for the extended stay of this family of six. The lack of water and electrical hookups can make stays of more than 2-3 nights a little trying. If you need full hookups, there are several options in nearby Cave City and Park City. Yogi Bear's Jellystone Park, with its child-oriented activities and amenities, is always a hit with the kids.


There is plenty to do in the area. If you are here for a short visit, you'll have a hard time deciding which adventure to attempt. There are numerous caves outside the national park that can be toured, including one located in an Australia-themed park called Kentucky Down Under. This area possesses a "retro" tacky tourist appeal reminiscent of Gatlinburg, Panama City Beach, and Ghost Town in the Sky. Rock shops, go karts, t-shirts, fudge, and zip-lines abound. Many of the attractions are seasonal, so do your homework before booking your accommodations.




The cave is massive, but still close-in at times.



The formations' shapes and colors are awe inducing.


Something To Do:

Everyone knows the Richardson Tribe enjoys outdoor activities, especially those associated with camping. One of the luxuries of camping in an RV is a fully functional kitchen. However, an RV's kitchen is inside, and somehow, cooking with a microwave just doesn't produce a real "outdoorsy" experience. Sure, we appreciate the camper's indoor kitchen, but every once in a while, it's fun to do it the "old fashioned" way.


We initially became acquainted with this type of cooking in 2008 while attending Frontier Days, an annual October event held at New Echota Historic Site in Calhoun, Georgia. For the Cherokee, this village was the brief capitol of their sovereign nation. New Echota was also home of the Phoenix, the only newspaper published in the Cherokee Nation's own language using a type of alphabet developed by Sequoyah, an illiterate (in English) but brilliant native.

New Echota's Frontier Days event is great for the entire family. Lots of hands-on experiences are provided throughout the park. One of the cabins featured a Native American game that required spear throwing. There was also archery and tomahawk target practice at the same cabin. The cabin also had a wonderful fragrance of baked apples and cinnamon seeping through the cracks in the walls. On the hearth of the cabin's fireplace were several Dutch ovens, each containing some sort of culinary masterpiece. The friendly folks demonstrating the Dutch ovens let us sample the food while explaining how the process works. Rebecca was especially interested and asked lots of questions about what kind of cookware and accessories she needed to get started.

The very next weekend, we followed the advice of the experts, and made the beautiful drive up to South Pittsburg, Tennessee. The destination was the official Lodge Cookware Factory Outlet. The folks were very friendly and helpful, by showing us exactly what we needed to get started. So began our new adventures in camp cooking.


On that day at the Lodge cookware outlet, we focused on purchasing the things we needed for cooking the with Dutch Ovens. We got 10" and a 12" Dutch Ovens, pair of leather gloves, a charcoal starter chimney, a tripod, tongs for handling charcoal, a lid handle, a lid stand, a cookbook, and a few other odds and ends.. Since then, however, we have added pie irons that allow us to make yummy calzones and grilled cheese. In the near future, I'd like to purchase a folding Dutch oven cooking table so I can get the ovens up off the ground.


So, in summary, Camp Cooking can be that added flavor that makes your camping trips a bit more like camping trips. Sure, it's easier to pop something in the microwave, but the satisfaction of using iron cookware just like your Great Grandma may have used on the family hearth is special.

For more information about camp cooking, click here.

.

There's nothing more cozy than a fire and the
smell of home-madefood.



Sampling some yummy Dutch Oven prepared food.


Lodge makes great cast-iron Dutch Ovens!




Recent Adventures:
Adventure Journal - Fall Creek Falls Entry Date: September 2015

I noticed the last Adventure Journal entry was in 2008. Wow! Has it been that long? It's not for a lack of desire to return. We missed it! For years we've heard great things about the Mountaineer Folk Festival held annually in at Fall Creek Falls State Park, and we've tried to schedule a trip around the festival, but there was always some scheduling conflict. Well, not this year. When I tried to book a campsite back in the summer, but it was already sold-out. I persevered, logging onto the reservation site sometimes 3-4 times a day, anxiously hoping someone cancels. Then BAM! We're in!

Our oldest son had a football game/marching band commitment, so the "littles" and I went up Friday evening, and Mama and LT drove "Willy B" the Jeep up Saturday morning. We got a pretty early start at the festival, and dove right in to the yummy snacks. Kettle corn, cookies, fudge, brittle, burgers, funnel cakes, honey, sorghum syrup, and on and on and on... We actually saw a mule turning a cane mill that squeezes the juice from the cane. The juice runs into a bucket, then it goes into a vat to cook down. Eventually it becomes syrup. We watched the entire process from beginning to end, then bought one of the rather expensive jars of syrup. It was worth it just to meet the mules.


There were dozens and dozens of tent booths set up all over the park's commons area near camp stores and recreation center. There were leather goods, crafts, and art. We met some ladies with an angora goat and angora rabbits. We'd already talked about fiber animals, and I think spending time with these sweet ladies and their animals closed the deal. Lainey's started knitting some, and we think it would be cool to get a spinning wheel and try to make some of our own yarn. Why not!

We also met a man with a "bluegrass instrument petting zoo." He was encouraging people, especially kids to come pick up an instrument, and play with it. He was showing kids simple chords. I think he was impressed when our kids were actually able to play along with him. We have guitar, banjo, mandolin, and fiddle playing kids.

Speaking of music, there were two stages of folk music, gospel, and bluegrass. There was a lot of talent at the festival, so we wandered back and forth listening. By the time we'd seen it all twice, we decided to drive up to view the falls. Then we headed back to the campground for a quiet evening and a campfire.


Back at the campground, we met a neighbor that had birds. Lots of birds. Parrots and cockatoos. They were all on perches just outside his camper. He told us the story of many of the birds, mostly rescued and previously neglected. Very interesting folks.

We had to head back to civilization on Sunday, but we were so glad we'd come for the festival. Maybe next time we'll have more time to enjoy more of the parks other features we know so well.

For more about Fall Creek Falls, click here!




This beautiful mule sure loves sorghum cane.



We sure do love these angora goats!






Adventure Journal - Choccolocco Mountain ORV Park Entry Date: September 2015

Our oldest son was invited to attend "Band Day" at Jacksonville State University, so I began to look for nearby campgrounds. There didn't appear to be anything in the immediate area, but I stumbled across this place called Choccolocco Mountain. According to their website, they had a campground with water and electric hookups. I found some videos on YouTube of people driving Jeeps and UTV's at the mountain, and it caught my attention. I grew up off-road, and I want my kids to experience some of the same thrills I did as a child (only a little safer). We own a Jeep, but we recently purchased a Polaris Ranger Crew, a full-sized side-by-side with six seatbelts and awesome off road capabilities. I decided to make a weekend of it!

Rebecca had to chaperone for the band, so she traveled to the university with them. I loaded up the other three kids into HOMER III (the motorhome), put the Ranger (Big Hoss) on a trailer, and headed to Jacksonville later that morning. When we arrived at the park, we stopped at the shed near the entrance. No one works in the shed, but there is a guide that displays fees for camping and riding. You have to calculate the fee, place the money in an envelope, and deposit the envelope in the cash box. We also had to sign waivers of liability for each driver and passenger (including children).

I pulled the motorhome up the rather steep and dusty hill and found an empty RV site. Campers can pull alongside the sites, or back/pull into the sites. I opted to pull straight in because there was a nice view of the out the front windows, and I didn't have to disconnect the trailer. I wasted no time pulling the Ranger off the trailer, grabbing a trail map, and heading out to explore. It was just three of our kids and me on this adventure, at least initially.

It was very dry, and there was some dust, but not so much as to make it uncomfortable. There is more rock than anything. We could see immediately that this was going to be very different from most of our other trail rides. These trails were pretty rough. Not impassible by any means, but rocky and rutted. There's no riding fast out on those trails. Then we started seeing some of the side trails, and WOW! There was no way I would even start to attempt many of those hill climbs and boulder mine-fields. It was fun watching others though! We spent hours on the mountain covering what we could cover safely. There were a couple of times that our adrenaline was pumping a bit more than normal, but it was all pretty safe.

We met a few folks at Choccolocco that had some very elaborate off roaders People can spend a lot of money building rock crawlers, and this is the perfect playground for them to give their rigs a challenge. We were disappointed when a fairly large group decided to fire up their engines and take a rather noisy and dangerous midnight ride, something that is not allowed. Thankfully, we were sound asleep by the time they returned.

Will we be back? Well duh! Click here for more details and dozens of trail and campground pictures.


Choccolocco Mountain ORV Park is a popular gathering place for off roaders.


The view from our Polaris Ranger occasionally made our adrenaline pump!



This is one trail I'll leave to the experts!


The trails were the bomb, but the littles
enjoyed the kid-sized zip line too.

---

Adventure Journal
Entry Date: August 2015
We've been doing a lot of back country Jeeping recently, and have logged quite a few miles in the Cohutta Wilderness over the last month. Most of the rides have been on somewhat familiar dirt roads that we've explored many times over the years. We recently heard about this single lane Jeep trail that winds for about 5-6 miles back into the wilderness and dead ends at a cemetery. The main attraction was the prospect of water crossings, and this trail has several.


A couple of my oldest buddies recently purchased Jeeps and were eager to join us for the ride. We had just a little trouble finding the road, but when we did, we knew we'd discovered a gem. It's mild enough that most any vehicle could handle it, but aggressive enough to provide some fun and excitement. I wouldn't bring the family sedan up here. It's a little scary at times (especially meeting another vehicle), but we felt safe. This is what Jeeps are built for.

The creek crossings were easy, and the water was never more than 12-24 inches. The water is crystal clear and very cold (even in August). In fact, the air temperature was probably 10-15 degrees cooler on this ride than in Ellijay although there is not a lot of altitude change. There's an amazing waterfall about 2/3 of the way in that makes the ride that much better. We also discovered that there is a second cemetery on this road, but getting up the hill to view it is treacherous. If you have a decent Jeep and consider yourself a 4X4 expert, then go for it. I really recommend walking the hill first though, just so you can get a good idea of the 3' deep ruts and washes beforehand. More...


The old dirt road over Grassy Mountain


Panning in the Cashes Valley area near Blue Ridge



---