From the Feedback Page:
We enjoy reading comments from our feedback page. Here's what you're saying:
---
Hello! A friend of mine sent me a link to your Salt Springs, Florida page, and as I looked around the page and your site, I loved what I saw. I have just created my first bookmark for camping locations and your site is it. thanks for all the great reviews and information on locations.
Ruben
---

My family will be taking our FIRST trip to Fort Mountain over Labor Day weekend, thanks to ya'll! We are very excited. Thanks for a great website!
Joey and Family


I absolutely love your website. We have a travel trailer that we've had a little less than a year. We are still pretty new to camping with our travel trailer. We are going to Tannehill this weekend. We live in Prattville, Alabama and love that you have so much information on campgrounds close by. It is frustrating that so many campgrounds have very little info and pictures on their website. I've marked you in my favorites and plan on using it as a tool to plan upcoming trips. We have three kids and the information and pictures you provide really help us to decide what is a good place for our family. Thanks so much!
David and Family

---

"What a great website! We are new to RVing, and are leaving south Florida in the next day or two. You go to a lot of the places we will be visiting. Thanks for your guides. Here we go....."
Cindy and Alan

---
"Thanks so much for the article on the Crooked River State Park and Cumberland Island area! We just enjoyed a fun filled week! We saw so much wild life. We were close to the Okefenokee, Cumberland Island, St. Mary's, and too much more to mention! The park was super clean and the campsites were large. We definitely plan to go again! Thanks again!"
Lee and Family

---
"I wish I had many hours to sit here and read every piece of information and every adventure on your site! I love it and hope that I can visit/camp at some of the places the Richardson Tribe has ventured to!"
Kristin

---

I really appreciate your website. Your descriptions and pictures are so helpful in deciding our next place to visit. We had been considering Desoto (State Park) as our next camping trip, and your website, I think, has sealed the deal.
Marcie and Family

---

I have really enjoyed your website! It is inspirational!
Charles

---
A Note from the Richardson Tribe:
Welcome to PB&J Adventures. We are an extremely curious family of six that enjoys exploring, playing, and learning. We have always made an effort to go somewhere and do something as often as possible, leaving the house, chores, and everyday worries behind.

Initially our adventures lasted only a day, so we would pack a lunch, often PB&J sandwiches (which inspired the name of our adventures). Sometimes the adventures were framed by an event like a fair or festival, however, most adventures were based on local places, their unique history or features, and any available activities at that location or in the immediate area (we do, after all, have children).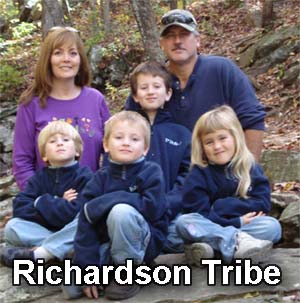 Eventually the adventures became a major part of our lives, sometimes lasting several days at a time. In 2007, we began documenting our adventures on a family website. Much to our surprise, many friends and family members wanted to experience their own adventures or join us for ours. Such was the inspiration for this website.
Our mission is to make the planning of your adventures easy and predictable. We have done the research and have personally visited and reviewed all listed sites. The PB&J Adventures website features detailed information about places to go and things to do. Destination reviews include lots of pictures, campground or lodging details, fun and educational things to do in the vicinity, dates of local events, maps for directions, links to official websites and reservations, and most importantly, a personal account of a local adventure by a real family.
We hope you enjoy the website, and we sincerely hope your family experiences the same benefits we have. If you have questions about any of the sites or events we recommend, please contact us.

Thanks for visiting PB&J Adventures.

The Richardson Tribe
Facebook Feed:
Introducing:

Click here for details about these and dozens of other awesome southeastern family outdoor destinations.

Latest Updates:
A Dollywood Christmas - Music, Lights, Action!

The Christmas season is nearing, and it's time to make holiday plans. We typically spend Christmas morning at home, and the afternoon with extended family. But when the day draws to a close, we are ready to hit the road. One our favorite destinations for the holiday season is Dollywood in Pigeon Forge, Tennessee,

Dollywood has tons of Christmas decorations, food, stage shows, and music. Add to that dozens of amusement rides and games, crisp cool Smoky Mountain air, and a real steam locomotive, and Dollywood is perfect for unlimited holiday fun.


The park's general theme, besides the affiliation with Dolly Parton, is

southern country charm. It's not a put-on. Folks that work here are typically real southerners, and in some cases, related to Dolly herself. There are numerous shops that sell the work of local artisans including leather goods, musical instruments, and candles. There is also a blacksmith demonstrating his trade.

Regarding amusement rides, there is a surprising variety from spinning tea cups to monster roller coasters. Most of the fast rides have cameras stationed at the most scary parts to capture your worst, most terrified expressions. Here we are riding the Mystery Mine, and Heath's

expression is that of absolute terror. The funny thing is, after the ride was over, the first words out of his mouth were "let's do it again!"

There are many impressive things about Dollywood, but the park's cleanliness and staff's professionalism are perhaps the most obvious. Everyone seems to have a job to do, and they do it with a smile.

Dollywood is located in a very popular area on the Tennessee side of the Smoky Mountains National Park. Pigeon Forge and nearby Gatlinburg are known for their musical and comedy shows, go carts, helicopter rides, museums, miniature golf, candy shops, rock shops, and pretty much anything related to tourists and the Smoky Mountains. There is an awesome aquarium in Gatlinburg that must be mentioned.

When visiting Dollywood, we

like to RV camp at either the

Townsend KOA

(Townsend, TN) or

Up The Creek RV Camp

(Pigeon Forge, TN). Both are great! The KOA has more amenities for the kids, but many are unavailable in the winter. Up The Creek has no laundry, but has beautiful RV sites. Both campgrounds have waterside campsites.


Dollywood's rides range from this

So there you have it, our first suggestion for a Christmas Destination. We'll post more ideas as the season nears.


---




New Addition! Zoo Atlanta

Zoo Atlanta is located at Grant Park near downtown. Of the zoos we've visited, Zoo Atlanta is one of the best. Most of the habitats are representative of the animal's native environment, and the animals seem quite content. The flora is very plush and tropical at Zoo Atlanta, making a stroll through the park very enjoyable. Sometimes the natural aspect of the habitats makes viewing the animals a little difficult, but be patient and watch. You will not be disappointed.

For lots more details including dozens of pictures, click here!

---


PB&J Adventures' Wild West Tour 2014 - Part 10
2 adults, 4 kids, 1 cat, 20 states, 20 days - Part 11 coming soon!
We made some really big plans for our third day at Yellowstone National Park. It was the twin's 10th birthday, and we wanted to make it one to remember. To make our day a little easier, we rented a suburban at the West Yellowstone, Montana airport. We had quite a lot of driving to do and thought it a good idea to give Homer III (our RV) a break. Just a note about the rental - Avis is the only real car rental choice here, but I was very pleased with the service. The gentleman that mans the office is actually the guy that unlocks the airport in the morning. I think he came in early that day just to take care of us. When we realized we'd reserved a five passenger vehicle (too small), he cut us a special deal on the Suburban. Small town, great folks! Reminded us of home.
More

---


PB&J Adventures' Wild West Tour 2014 - Part 9
2 adults, 4 kids, 1 cat, 20 states, 20 days - Part 10 coming soon!




Early morning sun across Yellowstone Lake

Day Nine- Yellowstone National Park - Southwest - June 7, 2014

Yellowstone Lake - West Thumb
After a good night's sleep at Fishing Bridge Campground, we departed on another adventurous day. This time we headed southwest on Grand Loop road which took us along the northwest coast of Yellowstone Lake. We stopped at Bridge Bay Marina where we encountered a family of elk leisurely enjoying the morning sun in the crisp cool air. We could see steam rising from several vents around the lake's coastline and snow capped mountains beyond. It made us anxious to see more. We proceeded along Yellowstone Lake's "West Thumb" then pointed the RV north towards the continental divide and Yellowstone's upper geyser basin.

Old Faithful and Friends
As we gradually climbed in altitude, the sun began to disappear behind the clouds. It was starting to look like it might rain. There were some beautiful sites along the road to Old Faithful, but nothing prepared us for what we saw once we arrived.
More


---

PB&J Adventures' Wild West Tour 2014 - Part 8
2 adults, 4 kids, 1 cat, 20 states, 20 days

Day Eight - Yellowstone National Park- East - June 6, 2014

We'd been anxiously anticipating this day since before we started our trip. This would be our first day at Yellowstone. There was a little bit of a drive from Cody, but it was as scenic as the park itself. The beautiful Shoshone river runs beside the road from Cody to Yellowstone, and we'd hoped me might do a little fly fishing. However, the early June snow melt had the river at a roar.


A Funny Thing Happened

We'd been told this was a really great time to see Yellowstone as far as crowds go, and up to this point, they were right. There was very little traffic and we were making great time! But then, a funny thing happened; we learned the locals aren't in such a hurry. As we were making our way up a steep grade, a bison stepped into our lane and began casually lumbering up the road. We couldn't get around the big fella. There wasn't much oncoming traffic, but what traffic there was stopped to take pictures. Finally we got a break and passed the massive animal. I gave the bison plenty of room as I passed. I could just imagine a big horn scraping down the side of the motorhome.
More


The roaring Shoshone River - No fishing today!


Traffic entering Yellowstone was slow!

---


PB&J Adventures' Wild West Tour 2014 - Part 7
2 adults, 4 kids, 1 cat, 20 states, 20 days


Day Seven - Cody, Wyoming - June 5, 2014
Today we did something we haven't done this entire trip: we stayed put. Well, we at least stayed in one town two nights in a row. There were several places we wanted to go and things we wanted to do in Cody. It was our first stay in a real western town, and we had some laundry to do. Life does go on...


Buffalo Bill Center of the West


Our original plan was to visit both the Buffalo Bill museum and the

Heart Mountain Interpretive Center at the site of a World War Two Japanese Internment Camp. By the time we were through with the Buffalo Bill museum, it was too late. This place is massive and actually houses five different museums under one roof:

- Buffalo Bill Museum
- Whitney Western Art Museum
- Cody Firearms Museum
- Draper Natural History Museum
- Plains Indian Museum

If you plan to see it all in a single day, you might consider taking a break for lunch. We did!
More



Plains Indians seem to have more elaborate
and decorative headdress and clothing than
did the eastern tribes.

---

PB&J Adventures' Wild West Tour 2014 - Part 6
2 adults, 4 kids, 1 cat, 20 states, 20 days


Day Six - Vore Buffalo Jump and Devils Tower
The travel day from Mount Rushmore to Cody, Wyoming brought more thrills and scary weather, but we enjoyed it just the same. We departed Mount Rushmore a little later than planned, but the travel to our first destination went quick and easy.


Vore Buffalo Jump
I personally had not heard of this place until this trip. Vore Buffalo Jump is a large sink hole located just off Interstate 90 about 1/2 hour west of Sturgis, SD. Over a period of about 300 years, various Native American tribes would stampede bison toward the hole, guiding many of the large beasts to their demise at the bottom of the pit. Here, the bison were used for their meat, skins, and bones. Very little of the animal was left unused. There are bones though. More bones than you can imagine, and they all tell a story.

Vore Buffalo Jump is an active archaeological site with a professor and several students excavating much of the time. We enjoyed walking through the small tee pee themed museum before descending into the pit and visiting with the archaeology students and a guide. The bones are packed in there, layer after layer. It's a very interesting place to visit, and learning about all the applications for Bison by products was educational. We wondered how the Native Americans had the knowledge to do all the amazing things they did to sustain themselves.
More


To some, archaeologists have back-breaking
and boring jobs. We envy them!

---

PB&J Adventures' Wild West Tour 2014 - Part 5
2 adults, 4 kids, 1 cat, 20 states, 20 days

Day Five - Rushmore, Crazy Horse, Custer State Park, Needles Highway - South Dakota
Our fifth day was very long and eventful. The day started early, around 4:45 to be specific. We woke up to possibly the earliest sunrise we'd ever experienced at Cedar Pass Campgrounds in Badlands National Park. That was ok, because the sooner we got to Rapid City, the sooner the camper's driver side window would be. It was a temporary fix, but anything was better than cardboard.

Those Darned Elusive Presidents!
Our early start put us ahead of schedule, and we arrived at the Mount Rushmore National Monument by late morning. Unfortunately, the top of the mountain, including the carvings, was completely hidden by fog. According to the ranger we spoke to, the faces had only been visible a handful of days so far this season. Rebecca and the kids were very disappointed. We took the short hike to the base of the sculpture and peered up into the fog. Nothing! We kept hoping the fog would lift, but to no avail. Then, for a brief moment, we could see Washington, then Lincoln, but that was all, and they quickly disappeared again.
More

---

PB&J Adventures' Wild West Tour 2014 - Part 4
2 adults, 4 kids, 1 cat, 20 states, 20 days

Day Four - Badlands National Park, South Dakota
Our fourth day started early. We had a relatively short drive to our next destination, but we had quite an agenda once we arrived. Our goal was to see Badlands National Park in a single day. We had reservations to camp at Cedar Pass campground which is very near the park's visitor center. We were so excited!


Windy South Dakota!
As mentioned in Part 3 of our adventure, we encountered a violent storm in Nebraska the previous day resulting in a badly damaged windshield and a missing driver-side window. I taped a piece of cardboard in the window to keep the wind, rain, and uninvited wildlife at bay. I learned that high winds are pretty common in this part of the country, and today was no exception. It was a bit noisy, but I was grateful for the cardboard and duct tape by the time we reached the entrance to Badlands National Park.

Wake up kids, we're here!
Up to this point, the kids had yet to see anything very remarkable, so pulling into the first overlook at Badlands was met with a lot of "oh wows" and "holy cows." I must say, the excitement was well deserved. It was like we were on another planet. The pictures we'd seen didn't do the park justice. We spent nearly an hour at this one overlook, carefully watching our steps (because of the Rattlesnake warning sign).
More




Badlands National Park: Finally, something to
get the kids excited. Pictures do no justice!

---


PB&J Adventures' Wild West Tour 2014 - Part 3
2 adults, 4 kids, 1 cat, 20 states, 20 days

Day Three - A Day of Surprises
Our third day out was to be special. Our original plans were head straight to Ashfall Fossil Beds State Historical Park near Royal Nebraska. It was one of the first sites we'd found on the map, and it was also very near Niobrara State Park, a destination with ties to Louis and Clark with a great campground. However...


It's a zoo in here!
We were well ahead of schedule, so we decided to dedicate the morning to the Henry Doorly Zoo in Omaha before heading west to Ashfall Fossil Beds. We'd heard the zoo was incredible, and it certainly deserves that reputation.

When we first arrived at the zoo, we were drawn to the large geodesic dome, a fully enclosed desert habitat. I really didn't think it was that impressive at first. It was hot and had a funny odor. But as we wandered through the dome, we all marveled at the variety of animals sharing the habitat. Maybe it was pretty cool after all. The dome was just the first little taste of the zoo, and it only got better.
More

---

PB&J Adventures' Wild West Tour 2014 - Part 2
2 adults, 4 kids, 1 cat, 20 states, 20 days
Day One - One looong day...


Our first travel day started at around 1:30 pm on Friday, May 30. We planned our departure on what I expected would be off-peak traffic hours for Chattanooga and Nashville.

Our timing was perfect. We breezed through both cities with little delay. Our only stop before St. Louis was a restroom break for me in Monteagle, Tennessee. A large fuel tank, bathroom, and kitchen all lend themselves to making good time. By dusk we were almost to St. Louis. We stopped briefly to refuel in east St. Louis before heading to St. Peters, just a few clicks west. We'd originally planned to dry-camp at a Wal-Mart, but friends told us about a nice little municipal park there with full RV hookups. Very good choice!
More

---

PB&J Adventures' Wild West Tour 2014 - Part 1
2 adults, 4 kids, 1 cat, 20 states, 20 days

The Richardson Tribe is known for visiting and sharing places to go and things to do throughout the southeastern US. We do, however, occasionally explore outside the southeast. This year we decided to take an extended trip out west with Yellowstone as the ultimate destination. This article is a multi-part condensed account of that excursion:

Pre-Planning
We made the decision to take this trip in mid 2013, and the first thing we did was make campground reservations in Yellowstone. We had no firm plans for the rest of our itinerary, but we had been told to make Yellowstone reservations early. After some research, we chose Fishing Bridge for part of the stay, and a private campground in West Yellowstone Montana for the additional days. With those reservations made and dates set, we could start planning the rest of the trip.
More

---

If your business appeals to the traveling, camping, fishing, kayaking, hiking, biking, and animal loving adventurous family, then an ad like this can offer great exposure for very little cost. For more information, email or visit our Advertise page.