A Note from the Richardson Tribe:
Welcome to PB&J Adventures. We are an extremely curious family of six that enjoys exploring, playing, and learning. We have always made an effort to go somewhere and do something as often as possible, leaving the house, chores, and everyday worries behind.

Initially our adventures lasted only a day, so we would pack a lunch, often PB&J sandwiches (which inspired the name of our adventures). Sometimes the adventures were framed by an event like a fair or festival, however, most adventures were based on local places, their unique history or features, and any available activities at that location or in the immediate area (we do, after all, have children).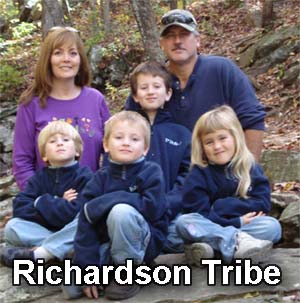 Eventually the adventures became a major part of our lives, sometimes lasting several days at a time. In 2007, we began documenting our adventures on a family website. Much to our surprise, many friends and family members wanted to experience their own adventures or join us for ours. Such was the inspiration for this website.
Our mission is to make the planning of your adventures easy and predictable. We have done the research and have personally visited and reviewed all listed sites. The PB&J Adventures website features detailed information about places to go and things to do. Destination reviews include lots of pictures, campground or lodging details, fun and educational things to do in the vicinity, dates of local events, maps for directions, links to official websites and reservations, and most importantly, a personal account of a local adventure by a real family.
We hope you enjoy the website, and we sincerely hope your family experiences the same benefits we have. If you have questions about any of the sites or events we recommend, please contact us.

Thanks for visiting PB&J Adventures.

Featured Fall Destinations (Cool Colors & Fantastic Festivals)
Desoto State Park - Fort Payne, Alabama

Desoto State Park is located on Lookout Mountain near Fort Payne Alabama (home of the legendary country band "Alabama"). It's a rugged place with large rock outcroppings and a mountainous terrain.

Bike riding is great around the campground and on some of the trails. People tend to drive a little fast on the main road going through the park making bike riding there (on the road) a bad idea.

Hiking at Desoto State Park is dreamy. There is so much to see: rock formations, creeks, a river, waterfalls, foliage, and wildlife. Some of the terrain is pretty rugged, but there is good hiking for everyone.

There is a pretty nice playground, a seasonal pool, a board walk that winds back to a intermittent waterfall, a pretty decent little country store, and a jewel of a campground.

Desoto encompasses much of Little River which snakes through the Little River canyon. The drive along the canyon is absolutely beautiful and relaxing. Careful with queasy passengers, it's a long and winding road.


Spookapalooza is one of our favorite fall festivals!
It takes place the last weekend of October at
Desoto State Park. There are lots of games and
activities. It's great for the campers, but the general
public is also invited to attend.

---

Fort Mountain State Park - Chatsworth, Georgia
Fort Mountain State Park is located in the north Georgia mountains, and its altitude and abundant hardwoods make it a perfect fall getaway.

Georgia's standards for its state parks are high, especially when it comes to campgrounds. Fort Mountain State Park has two campgrounds. One is located adjacent the lake (pretty tight for big rigs), the other is just across the park road. The sites are level, extremely large, clean, and furnished with fire ring/grill units and sturdy picnic tables. If we can't get a site on the lake, we usually go over to campground 2 and use the very large pull-through sites. You can expect water and electric hookups only, but the park does have a dump station.

Fort Mountain State Park has many miles of mountain biking and hiking trails. One hike at the top of the mountain features a mysterious prehistoric rock wall that no one can explain, an ancient fire tower (recently restored), and in incredible observation deck with view of the valley below. The lake trail is one of our favorites. It does a loop around the lake, and we almost always see something new on every visit.

The lake at Fort Mountain features a sand beach with a designated swimming area. There are also canoes and peddle boats that can be rented by the hour. There is miniature golf, a concession stand, and a very nice playground.

While visiting Fort Mountain, we recommend the short drive to Ellijay, Georgia's apple capitol. The downtown area is very nice with antique shops and exceptional eating establishments.


Halloween is always fun at Fort Mountain!


A short hike around the lake is full of color!

---

Up The Creek RV Camp is located off Wears Valley Road just minutes from the bustling Pigeon Forge strip. The "RV camp" is convenient to all the tourist attractions, yet the setting is extremely quiet and peaceful. You might notice they don't all it a campground, and they don't call it an RV park either. It's called an "RV camp." That term is very fitting.

Up The Creek RV Camp is bordered by two creeks: Waldens Creek to the north, and Cove Creek to the south. Both creeks flow very nicely providing a constant relaxing ambiance. This was most assuredly a Native American camp at some time in the past. The conditions are just perfect. We chose the RV sites to the south because there is nothing but a large grassy field on the opposite side of the creek. Honestly though, there is really not a bad site in the park.

With regards to amenities, other than those at your RV site, there are none. There is no bath house, no laundry, no game room, no pavilion, no hay rides, no organized "children's activities, and no playground. To some, the lack of these features is an issue. For us (other than the laundry) we think this part of the park's appeal. For instance, while there are certainly kids in the park, the place isn't swarming with them. Also, the lack of activities and amenities forces families to enjoy the creeks and open play areas more. At any rate, this is Pigeon Forge, so If you get bored, simply hop in the car and within minutes you can be doing about anything your heart desires.

Over the years, we have stayed at about half a dozen RV parks and campgrounds in this area. Up The Creek RV Camp is now our favorite. We can't wait to come back in warmer weather so we can search the creeks for fossils, artifacts, and gemstones. We still love rockhounding!


Up The Creek is perhaps the only RV park that is not crowded and noisy in the Pigeon Forge area.


The RV sites at Up The Creek are large and
some are pretty luxurious.


---


Imagine a mountain or beach getaway in our precious Homer III

Homer III is a beautiful 36' Class A bunkhouse with full body paint, custom upholstery, and tile throughout. It has three slides providing a spacious living area and master bedroom. There are two flat screen TVs inside and one outside. Each of three TVs can individually play DVD, satellite, cable, or air antenna. The Ford Chassis drives like a car and the powerful V10 engine pulls the steepest of hills with ease. Included in the rental will be all necessary items such as kitchenware (dishes, silverware, classes, mugs, etc.), a toaster, coffee maker, chairs, a lantern, and miscellaneous other items. For an additional fee ($35), bedding is supplied for the queen bed, bunks, dinette sleeper, and sofa bed. Towels are also supplied.

Our family of six has toured much of the country in Homer III, and now we want share it with others. It will be available only when we are not using it.