From the Feedback Page:
We enjoy reading comments from our feedback page. Here's what you're saying:
---
Hello! A friend of mine sent me a link to your Salt Springs, Florida page, and as I looked around the page and your site, I loved what I saw. I have just created my first bookmark for camping locations and your site is it. thanks for all the great reviews and information on locations.
Ruben
---

My family will be taking our FIRST trip to Fort Mountain over Labor Day weekend, thanks to ya'll! We are very excited. Thanks for a great website!
Joey and Family


I absolutely love your website. We have a travel trailer that we've had a little less than a year. We are still pretty new to camping with our travel trailer. We are going to Tannehill this weekend. We live in Prattville, Alabama and love that you have so much information on campgrounds close by. It is frustrating that so many campgrounds have very little info and pictures on their website. I've marked you in my favorites and plan on using it as a tool to plan upcoming trips. We have three kids and the information and pictures you provide really help us to decide what is a good place for our family. Thanks so much!
David and Family

---

"What a great website! We are new to RVing, and are leaving south Florida in the next day or two. You go to a lot of the places we will be visiting. Thanks for your guides. Here we go....."
Cindy and Alan

---
"Thanks so much for the article on the Crooked River State Park and Cumberland Island area! We just enjoyed a fun filled week! We saw so much wild life. We were close to the Okefenokee, Cumberland Island, St. Mary's, and too much more to mention! The park was super clean and the campsites were large. We definitely plan to go again! Thanks again!"
Lee and Family

---
"I wish I had many hours to sit here and read every piece of information and every adventure on your site! I love it and hope that I can visit/camp at some of the places the Richardson Tribe has ventured to!"
Kristin

---

I really appreciate your website. Your descriptions and pictures are so helpful in deciding our next place to visit. We had been considering Desoto (State Park) as our next camping trip, and your website, I think, has sealed the deal.
Marcie and Family

---

I have really enjoyed your website! It is inspirational!
Charles

---
A Note from the Richardson Tribe:
Welcome to PB&J Adventures. We are an extremely curious family of six that enjoys exploring, playing, and learning. We have always made an effort to go somewhere and do something as often as possible, leaving the house, chores, and everyday worries behind.

Initially our adventures lasted only a day, so we would pack a lunch, often PB&J sandwiches (which inspired the name of our adventures). Sometimes the adventures were framed by an event like a fair or festival, however, most adventures were based on local places, their unique history or features, and any available activities at that location or in the immediate area (we do, after all, have children).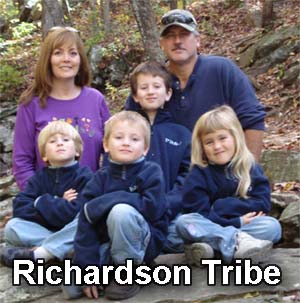 Eventually the adventures became a major part of our lives, sometimes lasting several days at a time. In 2007, we began documenting our adventures on a family website. Much to our surprise, many friends and family members wanted to experience their own adventures or join us for ours. Such was the inspiration for this website.
Our mission is to make the planning of your adventures easy and predictable. We have done the research and have personally visited and reviewed all listed sites. The PB&J Adventures website features detailed information about places to go and things to do. Destination reviews include lots of pictures, campground or lodging details, fun and educational things to do in the vicinity, dates of local events, maps for directions, links to official websites and reservations, and most importantly, a personal account of a local adventure by a real family.
We hope you enjoy the website, and we sincerely hope your family experiences the same benefits we have. If you have questions about any of the sites or events we recommend, please contact us.

Thanks for visiting PB&J Adventures.

The Richardson Tribe
Featured Events and Activities:

Smoky Mountain Christmas Festival - Dollywood, Pigeon Forge, TN - Now through Dec 30 - Details

Candlelight Evenings at Biltmore - Biltmore Estate, Asheville, NC - Now through Dec 31 - Call (828) 225-1333
For more southeastern events and activities, visit our "Things To Do" page!




Latest Updates:




The Biltmore Estate - Asheville, NC - More
As we approach the holiday season, we have been talking about our favorite places to visit this time of year. Topping the list is the Biltmore Estate. Here's a little about the place.


The Biltmore Estate is located in the Blue Ridge Mountains near Asheville, North Carolina. The home was built between 1889 and 1895 as a Summer home by George Vanderbilt, one of the wealthiest men in the world at the time. Over the course of six years, hundreds of designers, architects, artisans and craftsmen were employed to complete the 135,000 square foot chateau. The home features 250 rooms, an indoor lighted pool, a two-lane bowling alley, a work-out room, an intercom system, elaborate horse stables, and hundreds of priceless antiques, artworks, and various other furnishings.

Visiting the home is a memorable experience (and you will have to remember it, because no interior photography is allowed). The adult admission (as of 01/01/2011) is $75 which seems a bit steep, but Kids nine and under are free. That makes it a decent value for a large family, especially considering it's an all day event.


In addition to the home's lavish interior, the grounds are breathtaking. The landscape was designed by Frederick Law Olmsted, the architect of New York's Central Park. Plush gardens and native flora and fauna abound throughout the 8.000 acre estate. Keep in mind, landscaping was completed in the 1890s, so much of the shrubbery is very very old and massive. The "tree trunks" you see in the image to the right is wisteria.


Also on the estate is Antler Hill Village that hosts a winery, shops, and farm (including a petting zoo). Honestly, the farm is the biggest hit with the kids. The animals are very friendly, as is the staff. The old barn at the Biltmore farm has been restored and features a black smith and wood artisan demonstrating their craft. Additionally, the barn is a sort of museum displaying dozens of old farm implements. The highly-rated winery features a tour and tasting session.


The Biltmore Estate caters to active families by providing miles of biking and walking paths. Bikes can be rented on-site. Additionally, visitors can enjoy exclusive activities such as a Land Rover driving experience or an off-road Segway tour.

If you're considering a stay at Biltmore Estate, there are cottages and an Inn (starting around $480 per night for two) on the property. No, you cannot stay in the "big house." We typically stay on Jonathon Creek in our RV in nearby Maggie Valley for about $33 per night.

In summary, the Biltmore Estate is a wonderful place to take the family. The kids will be remarkably entertained, even in the house. Our best advice, however, is to arrive early and plan on staying the entire day. You will not be disappointed.

For more information including dozens of photos, click here.


The home's exterior details are remarkable.


The landscaping is unbelievable!

---

Adventure Journal - Chester Frost Park - More
Fall Break found us back at Chester Frost Park near Chattanooga, Tennessee. This was our first real outing with Homer III, our new (to us) Fleetwood Fiesta motorhome. We loved the cavernous living space the Class A provides! Our last camper had lots of sleeping space, but sorely lacked seating.

Unfortunately, I had to work much of the week of Fall Break, so Rebecca and the kids were "daddy free" during the days. Each day I drove the 1.5 hour commute to and from work so I could spend the evenings with the family. It was kind of exhausting, but well worth it. They did lots of the things it's often hard to get me to do. They went to see a movie (Gravity), went skating, went shopping, went out to eat, and generally enjoyed a few days of fun. I feel like the family is pretty safe at Chester Frost while I'm away. There's really only one way in and out, and the Hamilton County rangers patrol regularly.

Chester Frost Park's proximity to Chattanooga makes it a perfect home base for exploring the area and having fun. Known as the Scenic City, Chattanooga has virtually everything to offer. A family could spend weeks here and never experience everything the city has to offer.

I took off work around noon on Friday, and spent the rest of the weekend at the park fishing, hiking, and relaxing by the fire with the Tribe. On Saturday morning we made a good old fashioned breakfast with biscuits, eggs, and bacon prepared on a Dutch Oven lid on charcoal. It was a lot of fun and the campground smelled delicious!

As usual, Chester Frost Park delivered remarkably well at the end of each day. I dare you to find any place that has more beautiful sunsets.

Click here for lots of pictures and detailed information about Chester Frost Park and Chattanooga.


You'll not find more beautiful sunsets anywhere!

It's hard to beat the smell of bacon frying
in the crisp Autumn air.

---

Adventure Journal - Hillcrest Farms, Ellijay, Georgia - More

It's the time of year that the apple trees begin to produce heavily in Ellijay, Georgia. The Richardson Tribe makes a tradition of visiting Ellijay at least once or twice every autumn. It's a pretty drive, and local apples are always better than those foreign jobs. This year we decided to make the visit more fun for the kids. We'd heard about Hillcrest Orchards from friends, and decided it was a place we needed to visit.

When we arrived, we paid the admission fee and began the adventure. There was a pair of musicians playing bluegrass music on the stage near the entrance, so we sat and listened to them for a while. They were exceptional. It didn't take long for the kids to notice the milking cow. Each took their turn milking before we boarded a covered wagon for a tour of the orchard.

The wagon ride was fun. We wound through the rows of trees, crossed a creek of sorts, and admired the north Georgia countryside. We ended-up at a miniature golf course, but the kids were eager to try out some of the things they'd seen on the ride. We rode back to the main play area, and the kids proceeded to have a blast. They raced each other in the pedal carts, checked-out every playground feature, and spent a lot of time in the petting farm. Most activities are free once you're in, but the petting zoo and bungee jump thing are additional.

One event we enjoyed (and participated in) is the pig race. Rebecca and I were "volunteered" to race two other couples around a track on a stick horse wearing pig noses and squealing. Then they turned the real pigs loose. It's pretty funny to watch, and the hosts get the kids involved in the whole process. I think our kids enjoyed seeing us race more than the actual pigs.

We went through the moonshine museum and did a few other fun things before ordering up a meal at in the concession area. We followed up our meal with some goodies from the ice cream shop before buying a big bag of apples and heading home. Altogether, we spent around four hours at Hillcrest Orchards, and didn't even take advantage of the "pick your own apples" part of the visit. We were too pooped to pick by then!

In summary, we really enjoyed our afternoon at Hillcrest Farms. There are a few minor maintenance issues with the playground and facilities, but it's easy to overlook those while you're having a blast!

Click here for more about Hillcrest Orchards.

---

Adventure Journal - What's The Point? More
Once again, the wonderful camping and hiking at Desoto State Park have brought us back to the Alabama side of Lookout Mountain. We were excited to see Little River Canyon Center offering a day of free flint knapping classes. Flint knapping is the process of making tools from a type of rock called flint. The flint knapping process was used for centuries before the development of metal tools. Our ancestors used the technique to make knives, scrapers, spear heads, and arrow heads. The term "point" refers to sharpened rocks used for knives, arrowheads, and spears.


On this particular adventure we were camping with friends, so we called ahead to verify a group of ten could be accommodated. Not only did they welcome us, they pretty much gave us a private lesson. We were especially fortunate to have Ranger Larry Beene as our instructor. It's very obvious he's an expert. He can make a pretty decent point in just minutes. He showed us how to use small stones and deer antlers to slowly and accurately push flakes from the rocks, shaping them as desired. He makes it look a lot easier than it really is.

Ranger Beene also explained the safety procedures for Knapping. The shards of flint that flake off the rock are razor sharp, and can hurt really bad if you step on them. He taught us to always contain the flakes. John Micah learned the hard way that the piece he was working on was very sharp too when he cut his hand. He was very mature about it. Ranger Beene also explained how one could easily create a false archaeological site by leaving remnants lying on the ground. So again, the message is "clean up!"

While we all experienced a certain degree of success while flint knapping, I have to mention John Micah's natural ability. Check out the point he made (right)! For more information about the Little River Canyon Center including more pictures and details, click here.


Ranger Larry Beene instructs the Richardson Tribe



John Micah proudly displays his point.

---

Adventure Journal - More
Itching for a weekend of bike riding and nature brought us to Callaway Gardens on this trip. We love the park for many reasons, but cycling here brings back many memories of past visits.

On this trip, we stayed at Pine Mountain RV just minutes from the main Callaway entrance. It's very convenient and the staff there is great. We left "Willie B" Jeep at home because we planned to use the motorhome (Homer II) for our transportation to the park. When we arrived at Callaway Gardens the gate attendant made a recommendation on a good spot to park the camper and we headed that way. We parked in the shade, unloaded the bikes, applied sunscreen, and headed out for an easy ride to the Cecil B Day Butterfly Habitat.

The butterflies are always our first stop, and this time they did not disappoint. The flowers and tropical plants are also a joy. From there we headed Mr. Carson's vegetable garden on the hill behind Robin lake. Years ago the garden was sometimes used to make a show called The Victory Garden, and it's quite an interesting place (see pictures). We wandered around the garden until we started hearing some grumblings of hunger.

On this particular weekend, there was a water skiing competition at Callaway, and we watched some of the trick skiers do their thing. There were also many exhibits like boats, cars, and ski gear. Callaway gardens is known for its massive fresh water beach, the largest man made beach in the world. After grabbing a bite back at the camper, we headed for the beach straight away for some fun and relaxation. While there, the kids did some fun things like the bungee hop thingie, volleyball, on-water obstacle course, and big boy chess. In the circus tent, performers were practicing their routines, so we got a free show.

We stayed at Callaway until after sunset playing on the beach milking the day for every ounce of fun and fresh air we could before heading back to our campsite and crackling fire. Sitting there by the camper watching the dancing flames, I thought back to similar days spent with the family enjoying life and realized... today is just one more amazing installment in our bank of memories.

For lots more pictures (60 just from this visit) and details about this awesome southeastern destination, click here.


Lee Thomas makes a friend in the butterfly habitat


The paved bike path wind throughout the park.


Lainey enjoying a break and the view.

If your business appeals to the traveling, camping, fishing, kayaking, hiking, biking, and animal loving adventurous family, then an ad like this can offer great exposure for very little cost. For more information, email or visit our Advertise page.