A Note from the Richardson Tribe:
Welcome to PB&J Adventures. We are an extremely curious family of six that enjoys exploring, playing, and learning. We have always made an effort to go somewhere and do something as often as possible, leaving the house, chores, and everyday worries behind.

Initially our adventures lasted only a day, so we would pack a lunch, often PB&J sandwiches (which inspired the name of our adventures). Sometimes the adventures were framed by an event like a fair or festival, however, most adventures were based on local places, their unique history or features, and any available activities at that location or in the immediate area (we do, after all, have children).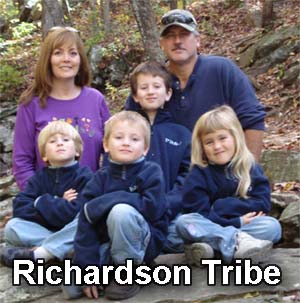 Eventually the adventures became a major part of our lives, sometimes lasting several days at a time. In 2007, we began documenting our adventures on a family website. Much to our surprise, many friends and family members wanted to experience their own adventures or join us for ours. Such was the inspiration for this website.
Our mission is to make the planning of your adventures easy and predictable. We have done the research and have personally visited and reviewed all listed sites. The PB&J Adventures website features detailed information about places to go and things to do. Destination reviews include lots of pictures, campground or lodging details, fun and educational things to do in the vicinity, dates of local events, maps for directions, links to official websites and reservations, and most importantly, a personal account of a local adventure by a real family.
We hope you enjoy the website, and we sincerely hope your family experiences the same benefits we have. If you have questions about any of the sites or events we recommend, please contact us.

Thanks for visiting PB&J Adventures.

Featured Winter Destinations

Salt Springs Recreation Area
Salt Springs is a small community located in the Ocala National Forest near Lake George. It's about 30 minutes Northeast of Silver Springs, and a little over an hour West of St Augustine, so it's a good home base if you want to explore. For local fun there is boating, fishing, canoeing and kayaking, diving (if you dare), off-roading, ATV riding, horseback riding, hiking, biking, and more.

"Salt Springs Run" marina provides boat ramp access to the spring for the general public. If you are camping in the Salt Springs Recreation Area campground, you can use their boat ramp. The water is crystal clear with the exception of the silt occasionally churned-up by the manatee tails. The water remains at 72 degrees year round, so the large gentle mammals love small lake formed by the springs. Be aware that the same warm water appeals to other wildlife too, such as alligators.


The campground at Salt Springs Recreation Area is very nice. Surprisingly, some of the sites are full hookup including sewer. They are mostly level and spacious, and include a fire ring, grill, and picnic table. The ground is thickly blanketed by long pine needles, and Spanish Moss hangs from the limbs.


Another camping/RV option is the Salt Springs RV Resort (Elite Resorts). The sites are much smaller as can be expected in an RV resort. The sites are privately owned, but many can be rented by contacting Elite Resorts. Some owners rent directly, and there are plenty of sites for sale. The lake access, two pools, cable, and club house with pool tables and Wii are major bonuses if you have kids.






Even in the dead of winter (February here),
it's perfect for exploring in a canoe or boat.



The manatee love the constant 72 degree water.

---

Disney's Fort Wilderness
Fort Wilderness, a Disney resort, is located just across the lake from Disney's Magic Kingdom. A short boat ride delivers you to the park's gate. In fact, from here, you can get to every Disney attraction either by boat or bus. Once you're a guest of the Disney campus, everything gets a lot easier.

First and foremost, Fort Wilderness is truly an RV resort at its finest. The full hookup (incl. cable) campsites are large with lots of tropical vegetation providing considerable privacy. While the quality of the campsites is consistent, their "quietness" can vary considerably. I must say it's difficult to find a site you to really complain about. On the other hand, until I stay in those sites, I'll never really know. On another note: There seems to be a real "Disney/Mickey Mouse" theme with many of the campers. It's entertaining to ride through the campground looking at the many colorful and flashy decorations, lights, stuffed animals, and so much more. It's borderline magic and tacky, perfect for this north Georgia family.


The amenities at Fort Wilderness are awesome. Virtually every activity in the park has a component for the kids. For instance, the massive pool (featuring a water slide) is the site of many afternoon games designed to keep the kids active and entertained. Other features include bike riding on nice paved roads, off road Segway tours, horseback trail riding, sandy beach, pontoon and speed boat rental, golf carts, bike rental, horse farm, volley ball, tennis, basketball, canoes, golf, and I almost forgot, THE MAGIC KINGDOM!


And that brings me to the local attractions. Well, that's pretty easy. Obviously, the park is made for the Magic Kingdom. Simply hop on the shuttle, golf cart, or bike (no cars and no parking) and head down to the dock for a free ferryboat ride to the park. All the Disney properties (Animal Kingdom, Epcot, etc.) are easily accessible from here. Within half an hour of Fort Wilderness are many of Orlando's other offerings. Universal Studios' parks, including the new Harry Potter portion of Universal's Islands of Adventure are all just a short drive away. Don't forget Sea World, not to mention, all the dozens of other family attractions in the family fun corridor. There is no arguing. You would be hard-pressed to get bored here.


In summary, I'll admit we loved this park. It was great for the kids and grown-ups alike. It was convenient and easy. If you plan to go, I'd suggest taking bikes (with lights), or renting a golf cart (reserve in advance). The buses are very convenient, but frustrating to wait for late at night after watching the fireworks across the lake.



No driving in the park. You can walk, ride a bike,
or ride a golf cart or take the free shuttle!


February in the pool! There's a waterslide too!


Sure it's Disney, but the campsites
still have that "state park" feel.

Ok, don't get me wrong. It can get real cold at Cloudland Canyon State Park. The day these pictures were taken started out at about 15 degrees. That's pretty rare, but either way, we've learned to dress for the weather.

Cloudland Canyon is located on Lookout Mountain in the Northwest corner of Georgia near Rising Fawn. It's a beautiful park with incredible scenery, two wonderful campgrounds, great hiking, awesome mountain biking, disc golf, playgrounds, and much more.


The terrain is rugged at Cloudland Canyon, but it's still a nice park to visit for just the day with parking just feet from some breathtaking views of the valley below and beyond. If you want a little exercise, there are a couple of fairly easy hikes around the rim of the canyon. For a more vigorous hike, follow the steps down to water fall #1. For an even more exhausting journey, visit falls #2. The walk down isn't bad, but the stair climb out is tough on those of us in not so great shape. For the really adventurous, there is a trail that connects Cloudland Canyon with nearby Lula Lake Land Trust.


Nights spent at Cloudland are silent with the exception of the waterfalls falls you may hear in the distance and an occasional train from far away. If you want to spend the night at Cloudland, there are a variety of choices. From cabins to primitive back country camping, Cloudland can accommodate. Their RV campground provides electric and water only, but the sites are relatively level and very large like most of the state parks in Georgia.


In summary, Cloudland Canyon is one of the most scenic state parks in Georgia. Camping and day-trips here are great. It's convenient to Chattanooga, Tennessee too, one of our favorite destinations.


If it's cold enough, the area around the
falls looks like a winter wonderland!.