A Note from the Richardson Tribe:
Welcome to PB&J Adventures. We are an extremely curious family of six that enjoys exploring, playing, and learning. We have always made an effort to go somewhere and do something as often as possible, leaving the house, chores, and everyday worries behind.

Initially our adventures lasted only a day, so we would pack a lunch, often PB&J sandwiches (which inspired the name of our adventures). Sometimes the adventures were framed by an event like a fair or festival, however, most adventures were based on local places, their unique history or features, and any available activities at that location or in the immediate area (we do, after all, have children).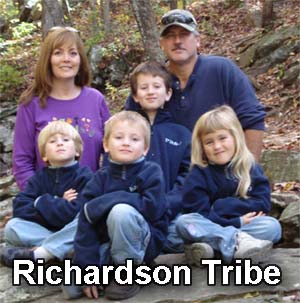 Eventually the adventures became a major part of our lives, sometimes lasting several days at a time. In 2007, we began documenting our adventures on a family website. Much to our surprise, many friends and family members wanted to experience their own adventures or join us for ours. Such was the inspiration for this website.
Our mission is to make the planning of your adventures easy and predictable. We have done the research and have personally visited and reviewed all listed sites. The PB&J Adventures website features detailed information about places to go and things to do. Destination reviews include lots of pictures, campground or lodging details, fun and educational things to do in the vicinity, dates of local events, maps for directions, links to official websites and reservations, and most importantly, a personal account of a local adventure by a real family.
We hope you enjoy the website, and we sincerely hope your family experiences the same benefits we have. If you have questions about any of the sites or events we recommend, please contact us.

Thanks for visiting PB&J Adventures.

Featured Destinations:
Callaway Gardens - Pine Mountain, Georgia
Located in Pine Mountain, GA, Callaway is one of the most respected upscale resorts in the southeast. Lakes for fishing and skiing, an exceptional golf course, an enormous fresh-water beach, miniature golf, a butterfly habitat, miles of bike riding, special programs, and so much more. There are enough things to do here and in the immediate area to make for a extended vacation. More...



The best places to go and things to do while visiting Pine Mountain and Callaway Gardens.


1- FD Roosevelt State Park - This is a park named for the man responsible for the Civilian Conservation Corps, the group that built many of our state parks from local timber and stone. It's a beautiful wooded park with a lake, a pair of very nice RV compatible campgrounds (water and electric), and lots of hiking and biking opportunities. FDR State Park is also very near Roosevelt's "Little Whitehouse." More

2- Wild Animal Safari - Wild Animal Safari is a 200 acre animal preserve located near Pine Mountain, Georgia. The Richardson Tribe has visited the park several times, which is a pretty powerful endorsement in itself. Maybe it's because we love animals so much.


3- Pine Mountain RV - When visiting Pine Mountain, we will sometimes stay at Pine Mountain RV for the convenience of full hookups and the awesome pool. It can seem crowded, especially on holiday weekends, but it's very convenient to Callaway Gardens.


Callaway Gardens' azaleas are breathtaking.


In our opinion Wild Animal Safari is best enjoyed

from one of their rental vans. #slobber


Cumberland Island features a canopy of live oak trees that provide an almost mystical environment.


Cumberland Island - Georgia
Cumberland Island is Georgia's Southern-most barrier island. Once privately owned, most of the island is now a National Seashore managed by the National Parks Service. The only way for the public to access the island is by a single ferry that departs from the dock in St. Marys 2-3 times a day, six days a week.

The ferry stops at two locations on the Southwestern side of the island. The first stop includes a very informative history lesson in the form of an interactive tour. The guide has spent most of her life on the island studying its unusual history. The second stop is for campers, but if you want a bike, this is the place (good luck).


The 17 mile-long island is almost completely undeveloped, and there are no automobiles available for rent. If you come to the island and want to cover it from one end to the other, plan on tent camping for no less than 2-3 nights. It's a half-day hike to the interior of the island, but well worth it I'm sure (we never made it).


If you want to visit this pristine island in comfort, the Greyfield Inn bed and breakfast can accommodate, but this is no low budget inn. You'll have to call for current rates:

Toll Free 866-401-8581
(904) 261-6408
Email: seashore@greyfieldinn.com






There is NEVER a crowd and wildlife abounds!





Choccolocco Mountain ORV Park - Jacksonville, Alabama

Choccolocco Mountain Off Road Park is located in Jacksonville, Alabama just minutes from Jacksonville State University. Choccolocco Mountain is a differnt kind of destination. It's dirty, dusty, and muddy (all at once). The campground isn't much to admire, but it gets the job done. The playground is just so-so but features a kiddy size zip-line. The facilities are minimal. But hey, it's AWESOME!!!

People that come here don't come for the luxury of an RV resort. People come here to play in the dirt. Choccolocco Mountain is covered with off road vehicle (ORV) trails, some easy, some treacherous. It's not a place to take your family sedan, that's for sure. Many of the trails require full roll cages and recovery gear. They all require a signature from each participant, driver and rider alike, releasing the owner of all liability. If you go to the park, make sure to pay close attention to the maps. If possible, get in with a group of other off roaders that are familiar with the trails. It is possible to go somewhere that's hard to get out of.

Now, with that said, we did observe a wide variety of off road vehicles playing there - from hard-core rock crawlers to stock Jeeps. There's a little something for everyone. Be aware that the trails are not one way, so you will meet other rigs. Fortunately, most off roaders here are moving quite slowly.

The campground is basically the perimeter of a large rock parking lot on top of a hill. There are electric and water hookups, fire rings, and the view is beautiful, but don't expect an RV resort. It can be dusty when people are coming and going, but not terribly bad.

Will we be back? Well duh! Click here for more details and dozens of trail and campground pictures.


Choccolocco Mountain ORV Park is a popular gathering place for off roaders.


The view from our Polaris Ranger occasionally made our adrenaline pump!


---