From the Feedback Page:
We enjoy reading comments from our feedback page. Here are a few things our friends are saying:
---
Hello! A friend of mine sent me a link to your Salt Springs, Florida page, and as I looked around the page and your site, I loved what I saw. I have just created my first bookmark for camping locations and your site is it. thanks for all the great reviews and information on locations.
Ruben
---

My family will be taking our FIRST trip to Fort Mountain over Labor Day weekend, thanks to ya'll! We are very excited. Thanks for a great website!
Joey and Family

I absolutely love your website. We have a travel trailer that we've had a little less than a year. We are still pretty new to camping with our travel trailer. We are going to Tannehill this weekend. We live in Prattville, Alabama and love that you have so much information on campgrounds close by. It is frustrating that so many campgrounds have very little info and pictures on their website. I've marked you in my favorites and plan on using it as a tool to plan upcoming trips. We have three kids and the information and pictures you provide really help us to decide what is a good place for our family. Thanks so much!
David and Family

---

"What a great website! We are new to RVing, and are leaving south Florida in the next day or two. You go to a lot of the places we will be visiting. Thanks for your guides. Here we go....."
Cindy and Alan

---
"Thanks so much for the article on the Crooked River State Park and Cumberland Island area! We just enjoyed a fun filled week! We saw so much wild life. We were close to the Okefenokee, Cumberland Island, St. Mary's, and too much more to mention! The park was super clean and the campsites were large. We definitely plan to go again! Thanks again!"
Lee and Family

---
"I wish I had many hours to sit here and read every piece of information and every adventure on your site! I love it and hope that I can visit/camp at some of the places the Richardson Tribe has ventured to!"
Kristin

---

I really appreciate your website. Your descriptions and pictures are so helpful in deciding our next place to visit. We had been considering Desoto (State Park) as our next camping trip, and your website, I think, has sealed the deal.
Marcie and Family

---

I have really enjoyed your website! It is inspirational!
Charles

---
A Note from the Richardson Tribe:
Welcome to PB&J Adventures. We are an extremely curious family of six that enjoys exploring, playing, and learning. We have always made an effort to go somewhere and do something as often as possible, leaving the house, chores, and everyday worries behind.

Initially our adventures lasted only a day, so we would pack a lunch, often PB&J sandwiches (which inspired the name of our adventures). Sometimes the adventures were framed by an event like a fair or festival, however, most adventures were based on local places, their unique history or features, and any available activities at that location or in the immediate area (we do, after all, have children).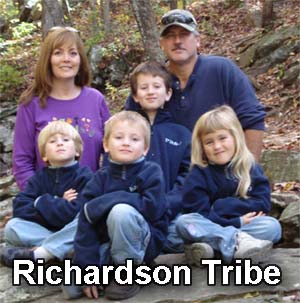 Eventually the adventures became a major part of our lives, sometimes lasting several days at a time. In 2007, we began documenting our adventures on a family website. Much to our surprise, many friends and family members wanted to experience their own adventures or join us for ours. Such was the inspiration for this website.
Our mission is to make the planning of your adventures easy and predictable. We have done the research and have personally visited and reviewed all listed sites. The PB&J Adventures website features detailed information about places to go and things to do. Destination reviews include lots of pictures, campground or lodging details, fun and educational things to do in the vicinity, dates of local events, maps for directions, links to official websites and reservations, and most importantly, a personal account of a local adventure by a real family.
We hope you enjoy the website, and we sincerely hope your family experiences the same benefits we have. If you have questions about any of the sites or events we recommend, please contact us.

Thanks for visiting PB&J Adventures.

The Richardson Tribe
- ATTENTION - ATTENTION - ATTENTION -
You could possibly see brief interruptions of this website over the next few days. We're currently updating the site to be compatible with more current technology. The site will still be available, but some features may not work correctly. We'll have the issues resolved shortly.

Thanks for your patience!
The Richardson Tribe


Facebook Feed:
Introducing:

Click here for details about these and dozens of other awesome southeastern family outdoor destinations.


Latest Updates:

---

Adventure Journal - Up The Creek RV Camp
Entry Date: May 2015
We finally made it back to Up The Creek RV Camp in warm weather. We have been looking forward to playing in that creek for two years! The RV Camp was once again awesome, although the construction of additional sites that started last year are still in process. In all fairness, it's been too wet to do a lot of digging, and expanding a campground involves digging.

This time we were visiting the area with friends who were camped right across from us. The wives and kids headed up early so they could spend the first day at Dollywood. We husbands brought the RVs up later in the day. During our stay we spent a lot of time on and in the creek, although the bugs were somewhat bothersome at times. We also had our traditional Mexican meal at No Way Jose's and walked around the "Island," a really neat shopping area with a massive Ferris wheel. We also rode go karts twice on this trip. Hey, that's what you do in Pigeon Forge. Lots of fun for kids young and old.

We'll continue to return to Up The Creek RV Camp because it's hard to beat the peaceful atmosphere. I do hope their expansion doesn't negatively affect its charm.


NOTE - If you are comfortable with driving and RV on a brief stretch of curvy road, you really must consider coming here via Wears Valley Road from Townsend or try leaving in the middle of the night. It took us 1.5 hours to get from the campground to the interstate. Never again!


We've been so anxious to play in this creek!!!


Up The Creek RV Camp's sites are awesome!



Adventure Journal - Rocky Mountain Recreation Area
Entry Date: May 2015
We were right in the middle of a partial renovation of Homer III, our motorhome. The flooring had been completed, but the sofa was completely gone as we waited for the upholsterer to complete our new cushions. It had been a couple of weeks since our last adventure, and we couldn't stand it! We decided to go camping, sofa or no sofa. The problem was every state park in the area was booked solid! In desperation, we took a little ride over to Rocky Mountain Recreation Area to see what was available. I was hopeful, but realized it was unlikely we'd find an open site on a Saturday. It was around 11am when we arrived at the park, and we met an RV leaving! As it turned out, we lucked-up on one of the best sites in the campground.

With the school year winding down, we'd been pulled in all directions at once. Band trips, field trips, band workshops, music lessons, banquets, finals, and all those other things that happen in the real world. We were feeling stress, and needed to unwind. A couple of days at the lake is just what the doctor ordered. We didn't really hike, but we took some nice leisurely walks. That evening we enjoyed a full moon and a campfire where the kids made Jiffy-Pop popcorn and tried frying various foods in their tiny skillets. The moon was so bright you could clearly see the tree line on the opposite shore of Heath Lake. It was a very nice evening.

Sunday morning was very nice. We sat by the lake sipping coffee and watching the fog creeping away from shore, swirling like small slow-motion tornados across the water. The sun was shining across the fog creating a rainbow effect reminiscent of Grand Prismatic Springs in Yellowstone National Park.






Boats aren't allowed to make big waves,
so it's also a great place to canoe and kayak.



There are a few negatives related to this park. You CANNOT reserve campsites, so timing is important. The earlier in the week you get there, the more likely you'll find a site. It will get crowded on the weekends. And finally, the sites are awesome, but plan on doing some jacking and blocking if you want to be level on the lakeside sites. That's a common issue with sites that back up to water. Will these factors keep us away? Uh no! More


Here's the view from the back of our lakeside campsite at Rock Mountain Recreation Area - Armuchee, GA


---

New Addition! Zoo Atlanta

Zoo Atlanta is located at Grant Park near downtown. Of the zoos we've visited, Zoo Atlanta is one of the best. Most of the habitats are representative of the animal's native environment, and the animals seem quite content. The flora is very plush and tropical at Zoo Atlanta, making a stroll through the park very enjoyable. Sometimes the natural aspect of the habitats makes viewing the animals a little difficult, but be patient and watch. You will not be disappointed.

For lots more details including dozens of pictures, click here!

---

If your business appeals to the traveling, camping, fishing, kayaking, hiking, biking, and animal loving adventurous family, then an ad like this can offer great exposure for very little cost. For more information, email or visit our Advertise page.