A Note from the Richardson Tribe:
Welcome to PB&J Adventures. We are an extremely curious family of six that enjoys exploring, playing, and learning. We have always made an effort to go somewhere and do something as often as possible, leaving the house, chores, and everyday worries behind.

Initially our adventures lasted only a day, so we would pack a lunch, often PB&J sandwiches (which inspired the name of our adventures). Sometimes the adventures were framed by an event like a fair or festival, however, most adventures were based on local places, their unique history or features, and any available activities at that location or in the immediate area (we do, after all, have children).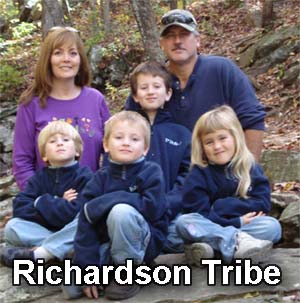 Eventually the adventures became a major part of our lives, sometimes lasting several days at a time. In 2007, we began documenting our adventures on a family website. Much to our surprise, many friends and family members wanted to experience their own adventures or join us for ours. Such was the inspiration for this website.
Our mission is to make the planning of your adventures easy and predictable. We have done the research and have personally visited and reviewed all listed sites. The PB&J Adventures website features detailed information about places to go and things to do. Destination reviews include lots of pictures, campground or lodging details, fun and educational things to do in the vicinity, dates of local events, maps for directions, links to official websites and reservations, and most importantly, a personal account of a local adventure by a real family.
We hope you enjoy the website, and we sincerely hope your family experiences the same benefits we have. If you have questions about any of the sites or events we recommend, please contact us.

Thanks for visiting PB&J Adventures.

Featured Summer Destinations (Beat the Heat)
James Island Park - Charleston, SC

James Island, one of the Richardson Tribe's top ten summer destinations, is a fabulous county park located in Charleston County, South Carolina. While it's just a short drive from the city of Charleston, it has a very secluded and natural feel. The campground is almost tropical with shady sites, palmettos, trees, and an abundance of colorful little lizards and frogs.


There are many different features that make this park special. From the children's perspective, and for escape from the summer heat, the water park was the best. But the park also features thick forests and lush green lowlands with winding bike paths, one of which leads to a tidal creek and fishing dock. There are alligators, crabs, birds, kayaks and canoes. There is a very nice water-play area and a playground that we rate a 10 (which is a rare event).

Regarding the water park, the place was immaculate, clean, fresh, like it was new (we learned later it was 13 years old). Everyone there was very friendly and professional. There is a large pool with a kiddy side and a deeper side (4') for swimming. There are two 200' water slides, a water-play ground, and a lazy river to relax on. On our visit, we pretty much spent the whole day moving from one to another. I must emphasize the quality of the staff at this park. Each of the attractions had no less than 4-5 lifeguards. There were lifeguards on high seats and walking around the pool and play areas constantly. I have to commend the park's management for having found and trained such a professional staff.


In summary, we didn't even start to do all the things there are to do at and near James Island. Wildlife viewing is incredible. There are miles of paved bike trails running through lowlands and marshes. There are organized activities and events or everyone like crabbing and fishing. Then, of course, there are all the historical things to do related to Charleston.



James Island's water park is awesome!


Fort Mountain State Park
Fort Mountain State Park is located in the north Georgia mountains, and its altitude and fresh water lake/beach makes it a great escape from the summer heat. As you wind your way up the mountain, roll your windows down so you can enjoy the gradual temperature and humidity change. Typically, from the base of the mountain to the park, there can be as much as a 10-12 degree change. The dramatic temperature change can affect the weather on Fort Mountain, often making it totally different from the mountain's base (as in rain, snow, or lack thereof).

Georgia's standards for its state parks are high, especially when it comes to campgrounds. Fort Mountain State Park has two campgrounds. One is located adjacent the lake (pretty tight for big rigs), the other is just across the park road. The sites are level, extremely large, clean, and furnished with fire ring/grill units and sturdy picnic tables. If we can't get a site on the lake, we usually go over to campground 2 and use the very large pull-through sites. You can expect water and electric hookups only, but the park does have a dump station.

Fort Mountain State Park has many miles of mountain biking and hiking trails. One hike at the top of the mountain features a mysterious prehistoric rock wall that no one can explain, an ancient fire tower (recently restored), and in incredible observation deck with view of the valley below. The lake trail is one of our favorites. It does a loop around the lake, and we almost always see something new on every visit.

The lake at Fort Mountain features a sand beach with a designated swimming area. There are also canoes and peddle boats that can be rented by the hour. There is miniature golf, a concession stand, and a very nice playground.

While visiting Fort Mountain, we recommend the short drive to Ellijay, Georgia's apple capitol. The downtown area is very nice with antique shops and exceptional eating establishments.





Fort Mountain Lake: A great place to cool off!


Late summer brings beautiful fungus. Yup! Fungus.





Vogel State Park- Blairsville, Georgia

Vogel State Park is located near Blairsville in the north Georgia mountains. Vogel, one of the first state parks in Georgia, was constructed primarily by the Civilian Conservation Corps (CCC). Vogel is also one of the most popular state parks in Georgia, so reserving a campsite there is sometimes difficult. The park features a beautiful lake with a sandy beach and pedal boats, two playgrounds, miniature golf, a CCC museum (call the park for hours), and a very nice camp store and gift shop. Regarding the park's campground, Vogel upholds Georgia's high standards by providing large RV sites with water and electric hookups (sorry, no sewer hookups, but there is a dump station of course).


The park has plenty of hiking, biking, and other outdoor recreation opportunities. A small creek runs through the campground providing a nice soundtrack for family adventure. If you take bikes, be aware that the ride from the campground is a breeze, but the ride back is all uphill. Vogel is in the Chattahoochee National Forest, so wildlife abounds. Be aware of black bears. They're very common.


Being just minutes from Blairsville is very convenient, especially considering the numerous events and festivals that take place in the small mountain town. Other local attractions include the Appalachian Trail, Brasstown bald (the highest point in Georgia), Helton Falls, Track Rock Gap, Helen (alpine village), Unicoi State Park, Cleveland (Gold and Gem Grubbing), Hiawassee, Blue Ridge, Franklin North Carolina (ruby mining), and much more.

For more about Vogel State Park, click here!



The lake at Vogel State Park is peaceful.