A Note from the Richardson Tribe: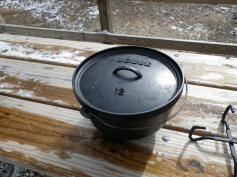 Everyone knows the Richardson Tribe enjoys outdoor activities, especially those associated with camping. One of the luxuries of camping in an RV is a fully functional kitchen. However, an RV's kitchen is inside, and somehow, cooking with a microwave just doesn't produce a real "outdoorsy" experience. Sure, we appreciate the camper's indoor kitchen, but every once in a while, it's fun to do it the "old fashioned" way.

We initially became acquainted with this type of cooking in 2008 while attending Frontier Days, an annual October event held at New Echota Historic Site in Calhoun, Georgia. For the Cherokee, this village was the brief capitol of their sovereign nation. New Echota was also home of the Phoenix, the only newspaper published in the Cherokee Nation's own language using a type of alphabet developed by Sequoyah, an illiterate (in English) but brilliant native.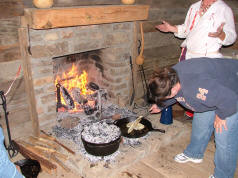 New Echota's Frontier Days event is great for the entire family. Lots of hands-on experiences are provided throughout the park.
One of the cabins featured a Native American game that required spear throwing. There was also archery and tomahawk target practice at the same cabin. The cabin also had a wonderful fragrance of baked apples and cinnamon seeping through the cracks in the walls. On the hearth of the cabin's fireplace were several Dutch ovens, each containing some sort of culinary masterpiece. The friendly folks demonstrating the Dutch ovens let us sample the food while explaining how the process works. Rebecca was especially interested and asked lots of questions about what kind of cookware and accessories she needed to get started.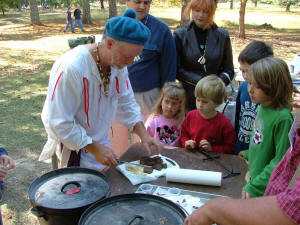 The very next weekend, we followed the advice of the experts, and made the beautiful drive up to South Pittsburg, Tennessee. The destination was the official Lodge Cookware Factory Outlet. The folks were very friendly and helpful, by showing us exactly what we needed to get started. So began our new adventures in camp cooking.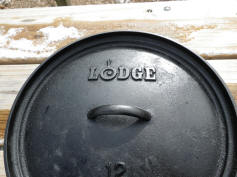 On that day at the Lodge cookware outlet, we focused on purchasing the things we needed for cooking the with Dutch Ovens. We got 10" and a 12" Dutch Ovens, pair of leather gloves, a charcoal starter chimney, a tripod, tongs for handling charcoal, a lid handle, a lid stand, a cookbook, and a few other odds and ends.. Since then, however, we have added pie irons that allow us to make yummy calzones and grilled cheese. In the near future, I'd like to purchase a folding Dutch oven cooking table so I can get the ovens up off the ground.
So, in summary, Camp Cooking can be that added flavor that makes your camping trips a bit more like camping trips. Sure, it's easier to pop something in the microwave, but the satisfaction of using iron cookware just like your Great Grandma may have used on the family hearth is special.
---
Dutch Oven Cooking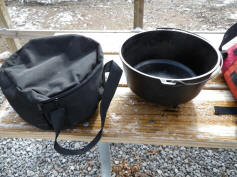 Virtually anything that can be baked in a regular oven can be baked in a Dutch Oven, and the oven's lid can be flipped over and used as a skillet for frying up bacon and eggs. Dutch ovens are very versatile, and if you camp often, they are definitely a great addition to your equipment list.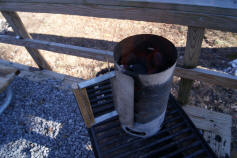 A quality cast-iron Dutch oven can last for generations, so it's a tremendous value in the long haul. Although, if you take your cookware camping, you have to make sure it's not exposed to the elements for too long. When we purchased our Dutch ovens, we also sprung for the carrying bags that matched. We always make sure the cookware is thoroughly clean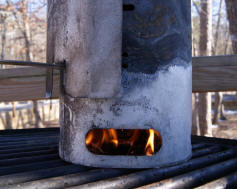 ed and lightly oiled before storing the ovens away in their bags.

Cooking in a Dutch oven requires charcoal. You can use store-bought briquettes, or you can use coals from the campfire. Briquettes make controlling the baking temperature very easy, but it doesn't take long to get comfortable enough to use campfire coals. When using briquettes, do not use self-starting charcoal, it burns up too fast and it's way too expensive. In fact, don't use starter fluid at all. We purchased a Charcoal Chimney Starter which lights the charcoal slowly from the bottom. Simply fill the chimney with briquettes, place some newspaper underneath, then light with a match.

While camping in the North Georgia mountains recently, I tried a recipe for Ham and Potato Au Gratin that I found online. You can also find other helpful Dutch oven hints online, like simple formulas for various baking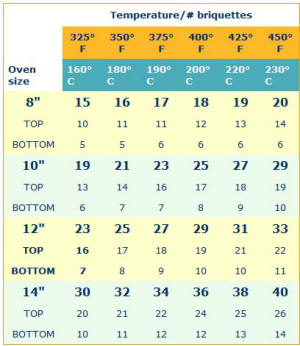 temperatures. For example, to the left is a fairly standard Dutch oven "temperature chart" I found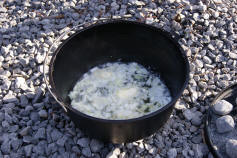 online. It shows how many briquettes to place on the bottom and top of the oven to acquire approximate temperatures.

The au gratin recipe called for onions sautéed in butter, so, after adding real butter and diced onions to the oven, I placed ten hot briquettes directly on the ground (gravel in this case), then set the oven on top. Little feet on the base of the oven help keep it slightly elevated over the charcoal.

Once the onions had become somewhat transparent from sautéing in the hot butter, I added the other ingredients: sliced potatoes, ham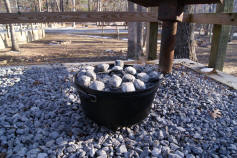 (frozen leftovers from Thanksgiving), flour, Mayfield milk, and a little salt and pepper.

After baking the mixture for around 30 minutes at 400 degrees, I stepped-up the heat a little, blended-in some shredded cheddar cheese, then sprinkled some of the cheese on top, just for looks.

By now, the appetizing smell of sautéed onions and baked ham was filling the air. It was time to give the recipe a taste try (as if I hadn't already). I carefully removed the lid and dished out a bowl for everyone. It was good, really good. Feedback around the campsite proved the recipe a hit. I had planned to make an apple crisp desert, but by the time I had seconds of the Au Gratin, there was no room left.

Other camping trips have led to more cooking adventures. While camping at Desoto State Park on Independence Day, we made this very simple and inexpensive chicken pot pie with a yummy crust.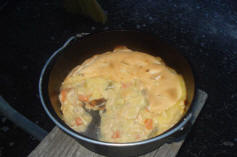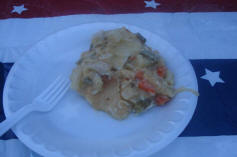 On this trip to Fort Mountain State Park, Rebecca made some delicious peach pie.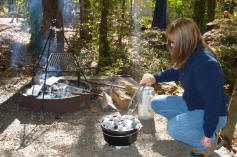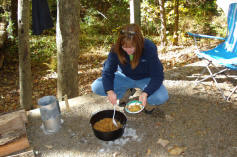 We have also added some pie irons to our stable of iron cookware. You can bake pies, grill sandwiches, or make calzone (our favorite). On this trip to Desoto State Park, Rebecca assembles some tasty pepperoni calzone pizza pies.

Our initial Lodge Cookware purchase included a tripod which provides a hanging point for the Dutch oven, converting it into a cooking pot. On one Easter holiday trip, we boiled eggs for decorating and hunting. Later that evening, we boiled peanuts.