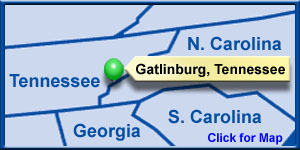 Overview
Gatlinburg is located in eastern Tennessee near Knoxville. In the south, Gatlinburg is legendary, everyone has been there at least once. It is kind of stereotypical, but one of a kind. It's quaint, tacky, cozy, rowdy, and crowded. It has about every kind of family entertainment imaginable, some good, some great! Oh, and I can't forget the wedding chapels. Gatlinburg is known for their wedding chapels. If you plan to visit Gatlinburg, you'll want to be prepared to spend more than a day or two. There is just too much to see and do.
---
Adventure Journal
Entry Date: December 2012

The Richardson Tribe
Features

Rating (1-10)

Description

Website
7
In
Camping
*
We h

Cabins/Chalets/Hotels

9

Th
Shopping
Hiking, biking
*
T
Geocaching

*

Geocaching is available, but we have not at this location (yes, near here).
Rockhounding

*

N
Local Attractions

10

Great Smoky Mountain National Park, Dollywood, Townsend, TN, Ober Gatlinburg, Aquarium of the Smokies, restaurants, go carts, miniature golf, scenery, Cherokee NC, Maggie Valley NC, helicopter rides, gem mining, snow skiing, shows (music, comedy), gift shops, gift shops, gift shops!
*Note: We rate only the amenities we have personally reviewed.
No financial consideration or favor has been received for listing in PB&J Adventures' website. We are in no way affiliated with this facility or any other facility we review. Any paid advertising seen on this site was arranged after the destination was reviewed. You can trust the reviews to be unbiased.


January 2011

---
January 2010


December 20

09
Lodging and home base - KOA of Townsend, Tennessee. The Tribe had stayed at the Smoky Mountain KOA in Townsend once before (December 2008), and we were pretty pleased with most aspects of the campground. It's clean, they have full hookup, the playground is above average, they have a pool (not usable this time of year), and they have sites on the river. There are a few negatives such as an expensive laundry (our cost, not counting detergent, was over $40.00 in quarters for the machines), and very narrow sites, something that is very common or river-front sites. In these scenarios, you typically orient more to the rear of the camper than the side.

The key reasons we chose Townsend and the KOA is convenience and the night sky. Riverside sites are furnished with little decks facing north viewing the water, the side of a mountain, and, with the leaves down, an almost pitch black sky with stars so bright it's almost overwhelming. Traffic and crowds, or the general lack thereof, is also a great reason to stay in Townsend. From here, you can go into Gatlinburg's South entrance through the park (avoiding Pigeon Forge), about a 30 minute drive. If Pigeon Forge (Dollywood) is the destination, then it's less than 30 minutes through Wears Valley. When it's time to head home, there is no 1-2 hour bumper to bumper ride to the Interstate. Because of the river (tubing, fishing) the Tribe is enthusiastically looking forward to returning in much warmer weather.

Entry Date: December 2009

From

The Richardson Tribe
---
Adventure Journal
Entry Date: December 2008
W

The Richardson Tribe
---
Adventure Journal
Entry Date: July 2008
This trip originated because our very good friends Dixie and Larry finally decided to tie the knot. Some people go to Vegas to get married, around here, people go to Gatlinburg. We enjoyed the trip although we didn't do a lot of the things Gatlinburg and Pigeon Forge are famous for. We walked through town, bought goodies and candy, and did a little gem grubbing at one of Gatlinburg's indoor "touristy mines". We rode up to Newfound Gap with the top down on the Jeep. It's amazing how much the temperature drops going up the mountain. This is July, and the kids needed blankets to keep warm. All in all, the time we spent there was enjoyable. We had dinner at the Alamo Steak House after Dixie's and Larry's wedding. It was a lot of fun to visit with their families.

The campground, uh, RV park:
Unlike most of our camping trips, we stayed at a commercial RV park as opposed to a state park. There are trade-offs in both scenarios. At state parks, the sites are usually large and very "woodsy", you know , like you're camping. However, with very few exceptions, there is no full hookup (sewer) available. Commercial campgrounds, on the other hand, offer full hookup sites, but they try to crowd as many people into the campground as possible resulting in very tight "RV sites" (notice I didn't say "camp sites". On this particular trip we stayed at a place called "Camping in the Smokies". Let me first say, the RV park was meticulously maintained. The pool was clean, and the people there were extremely helpful and friendly. On the negative side, the sites were extremely narrow which means our neighbor's sewer hose was about 3 feet from our picnic table which was about 3 feet from the side of the camper. There's a creek that runs along one side of the campground, and we had one of the creek side sites. The kids played in the creek the first day, but after spotting snakes several times, they tended to keep out of the water. We scouted out several other campgrounds while we were in the area, and found one or two that we might consider on our next trip. One in particular is a campground formerly called the "Crazy Horse", but it is now owned by "Adventure Bound Resorts". This campground has all kinds of things to do like a water slide, pool, game room, and a trout pond.
Now, the bad part! We left the campground in Gatlinburg around noon, and got home after 5pm. That's because we were stuck in bumper-to-bumper traffic from the beginning of Pigeon Forge, through Sevierville, all the way to the Interstate 40. It took 2 hours to travel about 20 miles. I recommend coming through Townsend and Wares Valley. We didn't this time because we were pulling the Jeep.
The Richardson Tribe
The Richardson Tribe
Other Destinations: