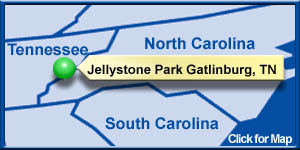 Overview
Yogi's Jellystone Park, Gatlinburg is located about 20 minutes east of Gatlinburg proper. Because of the distance from Gatlinburg's hustle and bustle, campers can enjoy relative seclusion. The property backs up to the Great Smoky Mountains National Park, and it's an awesome layout.

---
Adventure Journal
Entry Date: July 2013
Jellystone Park

The Richardson Tribe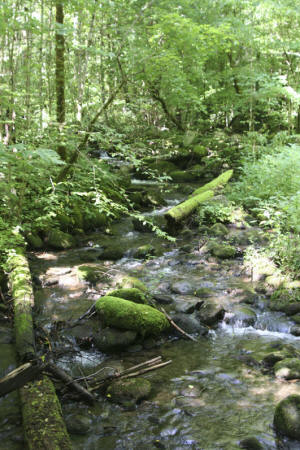 More Destinations:

Features

Rating (1-10)

Description

Official website

9

The website is down at this time.

Campground - Reserve

8

Tent, Trailer, RV Campsites

Cottages/Cabins - Reserve

*

14 Cottages (**$85-$165)

Lodge - Reserve

*

56-Room Lodge & Conference Center (**$75-$200)
20-Room Hike Inn ($70-$97)

Playground

9

The kids loved the playground. Could be more variety.

Hiking

10

The Appalachian Trail begins here, so...

Visitor Center

8

It's a nice visitor center, lots of wildlife exhibits.

Geocaching

*

Geocaching is available, but we didn't have a chance.

8

There is plenty of rock hounding in the immediate area. Dahlonega is also very near and features commercial gold panning and rockhounding. we visited the Consolidated Gold Mine Company.

Local Attractions

9

Len Foote Hike Inn, Dahlonega Gold Museum, Consolidated Gold Mine, Company, Smith House Restaurant, Appalachian Trail, etc. With Dahlonega and the Chattahoochee National Forest so close, it is unlikely you will be looking for something to do.

*Note: We rate only the amenities we have personally reviewed.
**Accommodation pricing is based on 2013 Smoky Mountains RV Campgrounds website.

No financial consideration or favor has been received for listing in PB&J Adventures' website. We are in no way affiliated with this facility or any other facility we review. Any paid advertising seen on this site was arranged after the destination was reviewed. You can trust the reviews to be unbiased.
---